Austin Butler never planned to play Elvis Presley in a movie. The "Elvis" star hadn't even been told he resembled the late Rock 'n' Roll singer until a month before he learned about director Baz Luhrmann's ambitious film — a dramatic never-before-told Presley story starring an ensemble cast comprised of Tom Hanks, Olivia Dejonge, Kelvin Harrison Jr. Alton Mason, and Yola. However, as fate would have it, a series of chance events eventually helped Butler land the role of a lifetime.
"It was fate," Butler tells POPSUGAR. "The bizarre thing was I never had anybody say, 'You look like Elvis, you should play Elvis,' or any of that. Then [there were] two moments that this friend (ex-girlfriend Vanessa Hudgens) said, 'You got to play Elvis' . . . I got the call that Baz was making [the movie], and the hairs on my arm stood up. And I just thought, 'This is it, it feels like the stars aligning.'"
In Butler's mind, tackling such a monumental role was a long shot. Before commencing his Presley transformation, the actor had little faith in his ability to do the role justice, much less snag the part. While searching for his "Elvis" star, Luhrmann received a videotape of Butler tearfully singing Presley's cover of "Unchained Melody" — an informal audition that immediately caught his attention. The "cold call" Luhrmann received from Denzel Washington ultimately helped seal Butler's destiny.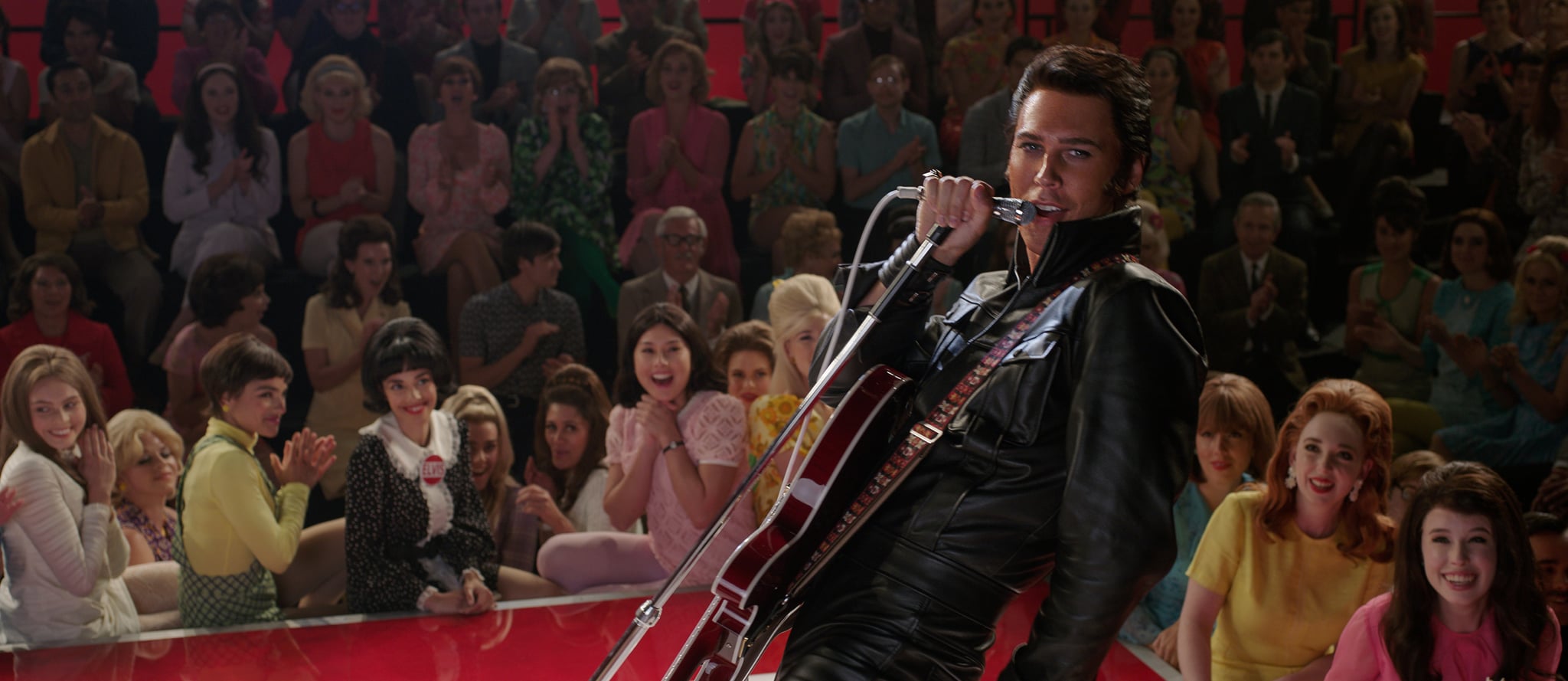 The first thing Butler did when he was cast for "Elvis" in 2019 was call up dialect coach Tim Monich. "I said, 'We got to get to work,'" Butler says. The actor was all set to begin his "Elvis" journey, even spending time at Presley's Graceland in Memphis, TN, while preparing for the film. However, production on the film stalled in March 2020 due to the pandemic, leaving Butler alone for roughly six months in his apartment/Presley-decorated shrine to reflect on what his performance would look and sound like. He nearly psyched himself out of the opportunity, but leaning on advice from fellow actor Rami Malek helped Butler shake his nerves.
"[Malek] was very helpful when I was going through a near panic attack before starting," Butler jokingly reveals. "We actually spoke before COVID. So I was about to start shooting, and I didn't feel ready. I was on the verge of an anxiety attack, [and] I just didn't feel ready at that time — then I spoke to Rami, and he really helped me."
Butler initially struggled with his physical appearance in relation to Presley — he still didn't feel like he looked the part. He reveals, "There was this thing where I had an unrealistic expectation that I could somehow contort my face to look exactly like Elvis. Or I looked at other people, and I go, 'They look more like him,' that sort of thing — you start judging yourself. So for me, Rami was like, 'At the end of the day, it's not about that. You don't want to go to the Wax Museum and just see that. You want to see your soul and his soul colliding and creating something we've never seen before.'"
Source: Read Full Article