London-based imprint Aries and New Balance have reunited to deliver a stellar collaboration for Italian football giants AS Roma.
The latest football and fashion collaboration is one of the best-looking cross-cultural collaborations of 2022, with the British luxury streetwear brand delivering their lucid, irreverent design cues to one of the most iconic clubs in world football.
The collection includes an official "on-pitch" kit, which stays true to the famous Giallorossi colorway of gold and carmine, with Aries adding their trademark diagonal marbling streak to the eye-catching jersey. Matching elite football socks and pro-shorts complete the kits, while a goalkeeper jersey arrived with Aries' infamous dyed cosmic colorways, inspired by trash culture, outsider art and illustration – core influences to the Aries brand.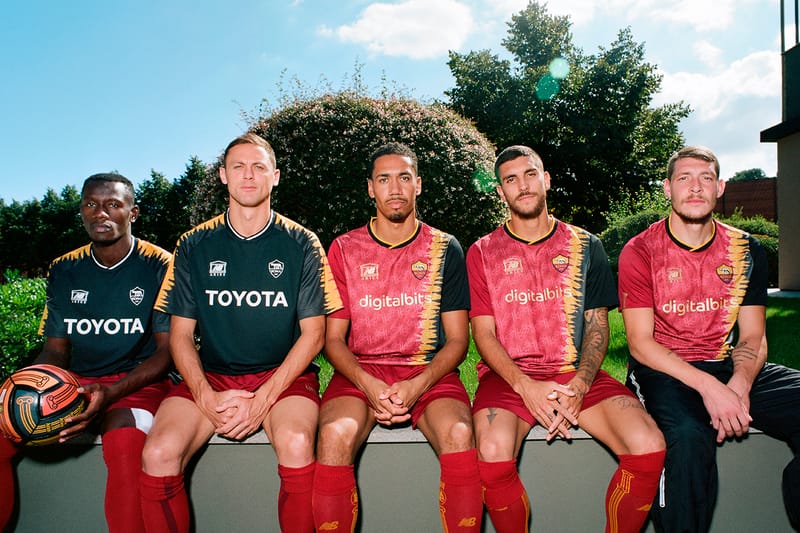 Niccolò Berretta
The collaboration also includes a striking "pre-game" collection which features an AS Roma crested pre-game jersey, an all-black nylon training tracksuit and a limited-edition silver and gold metallic jersey that features Rome's most iconicfigures in sculptural form – including Lupa Capitolina, Lucius Verus and Julius Ceaser.
The collaboration campaign is shot by Roman Photographer; Niccolò Berretta and features exclusive shots of AS Roma players like Lorenzo Pellegrini, Andrea Belott, Nemanja Matić, Mohamed Mady Camara and Chris Smalling alongside local Rome-based talent. The collection celebrates the historic city with hidden landscapes, locations and haunts – delivered as a personal love letter from Aries to Rome.
Sofia Prantera, Aries Founder and Creative Director, says:
"To collaborate with an institution like AS Roma is the realisation of how sport, fashion and culture have become intertwined. Being Roman I understand how important this club is to the millions of fans in this city and around the world, and I wanted to reflect that through designs that celebrated Rome and conveyed its unique expression of football and fashion provenance."
The "on-pitch" kit will be worn by AS Roma on their Japanese tour when they play Yokohama F Marinos in Tokyo at the end of November, while the pre-game jersey and training tracksuit will be worn by the AS Roma players on-pitch during their warmup when they face local rivals Lazio this Sunday November 6 at their infamous derby game at the Stadio Olimpico.
The Aries x New Balance x AS Roma "on-pitch" collection is available to purchase on November 22, while "pre-game" collection is available to buy now via the Aries website.
In other football and fashion collab news, make sure you check out US Soccer's run of collaborations ahead of the 2022 Word Cup.
Source: Read Full Article