With its distinctive boxy shape and domineering presence, the Mercedes-Benz G-Class has been turning heads for over four decades. While seen in modern times as a symbol of success, the G comes from honest roots, built to handle the world's most treacherous terrain since its inception. Respected by hedonists and purists alike and fondly adopted by everyone from Arnold Schwarzenegger to the Pope, the G-Class has become an unmissable silhouette synonymous with adventure and luxury. As the G-Wagon passes the historic milestone of 500,000 units, we take some time to dive into the vehicle's rich history, design, and features which make it a true icon of the automotive industry.
1. The first model, the 280 GE, was made on request for the Shah of Iran
1 of 2
Mercedes-Benz2 of 2
Mercedes-Benz
In the '70s, the Shah of Iran, who was a key shareholder at Daimler at the time, commissioned 20,000 trucks to be made for military use in his empire. To fulfill the massive undertaking, Mercedes-Benz sought the help of Austrian military equipment manufacturer Steyr-Daimler-Puch. After years of testing and development, which took the team everywhere from the Sahara desert to the Artic Circle, the G-Wagon was officially launched in 1979. Mercedes realized that with slight modifications, the SUV could be sold as a consumer vehicle, and it was later made available to the public in short and long-wheelbase options. Adjusting to shifting demands, the G-Wagon was rebranded into a luxury vehicle in 1998, giving birth to the term "G-Class."
2. Every G-Class is hand-built in the same factory1 of 2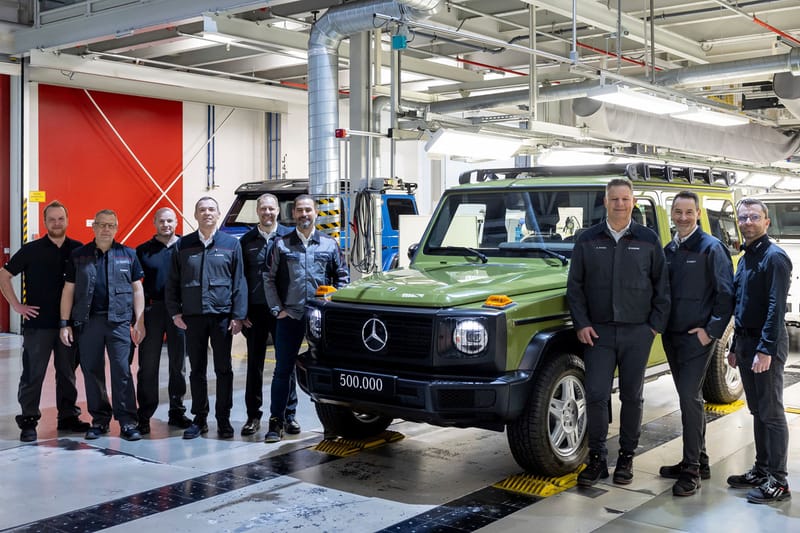 Magna2 of 2
Magna
Since its inception, every model of the G-Class has been built by hand in Graz Austria at Magna Steyr Automobile Company. The plant isn't part of the luxury automaker's network. Instead, it's run by Magna Steyr, the largest automobile contract manufacturer in the world which also produces for BMW, Jaguar, Toyota, and others. Approximately 25,000 G-Class vehicles are made there each year including around 5,000 allocated for the military.
3. The "G" stands for "Gelandewagen" 1 of 2
Mercedes-Benz2 of 2
Mercedes-Benz
Each Mercedes-Benz letter class is an abbreviation. The S-Class is short for "Sonderklasse" which is German for special class, E-Class stands for "Einspritzmotor" which translates to fuel injection engine, and the "G" is short for Geländewagen which simply means all-terrain vehicle.
4. The cabin is designed to accommodate bobbing helmets1 of 2
Mercedes-Benz2 of 2
Mercedes-Benz
As the original G-Class premiered as a military and utility vehicle, it was designed to provide enough lateral and vertical space for fully-geared soldiers while driving in extreme off-road conditions. The G-Class' squarish proportions which accommodate those needs remain more or less unchanged to this day as it continues to serve the militaries of over 40 countries. While mostly used for transport purposes, the vehicle is highly malleable and built to carry heavy loads and add-ons such as body armor, machine gun turrets, and various combat equipment.
5. All G-Class vehicles must conquer Schöckl Mountain.
Since the beginning, every G-Class must prove that it can conquer a 5.6 km route on Schöckl, a local mountain in Graz, Austria. Mercedes-Benz considers the climb "one of the greatest challenges for man and technology worldwide" with gradients of up to 60% and side slopes of up to 40%. Before being approved for production, each G-Class undergoes more than 2,000 km (1,243 miles) of testing.
Source: Read Full Article