New York Governor Andrew Cuomo resigned from his post on August 10 amidst his impeachment investigation and state Attorney General Letitia James' subsequent findings that he broke state and sexual harassment laws, as were released earlier on August 3. Lieutenant Governor Kathy Hochul is set to replace him in 14 days.
According to NBC News, Cuomo had repeatedly refused to step down in the past amidst his impeachment investigation ordered in March by New York State Assembly Speaker Carl Heastie, who said on August 3, following James' report's release, "It is abundantly clear to me that the Governor has lost the confidence of the Assembly Democratic majority and that he can no longer remain in office." Joining him were the voices of multiple political and public figures, including President Joe Biden, who told White House reporters that same day his longtime political ally "should resign." 
Senate Majority Leader Chuck Schumer didn't even wait for James' investigation to conclude. In March, applauding Cuomo's accusers for being brave, Schumer called the women's claims "serious, credible allegations of abuse" and that Cuomo's resignation would be "for the good of the state" (via CNN). It seems as if Hochul's swearing-in as the new governor would have come sooner or later. And now, it's her time to shine. Soon to be the state's first female governor (per the Intelligencer), here is what else we know about her. 
Kathy Hochul was once endorsed by this surprising organization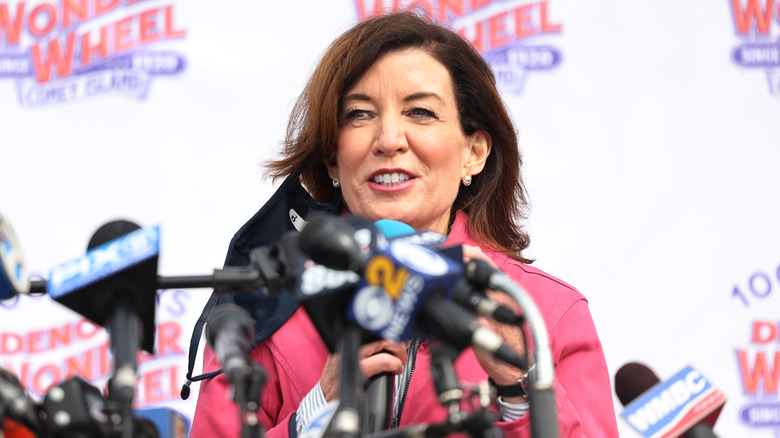 New York Lieutenant Governor Kathy Hochul is ready-and-set to drop the "Lieutenant" from her title. After predecessor Andrew Cuomo announced his resignation on August 10 (via CNN), Hochul tweeted her agreement with his decision, writing, "I am prepared to lead as New York State's 57th Governor." 
According to the Intelligencer, Hochul began her political career in high school as a volunteer at her local Democratic Party headquarters (where, per the outlet, "she was always the youngest and only female person in the room"). With a law degree from Washington, D.C.'s Catholic University, she consistently moved upwards in rank from local Upstate New York offices until her big break in 2011, when she scored an upset victory to become the first Democrat representative in New York's 26th Congressional District in four decades.
Though Hochul's biggest career shocker was her National Rifle Association endorsement running for Congress as an "independent Democrat" in 2011, the Intelligencer reported the Lieutenant Governor leaned evermore liberally as time went on. Though the outlet called her in "ideological lockstep with the Cuomo administration," it also pointed out, unlike Cuomo, Hochul is widely, well, liked by colleagues. Albany mayor Kathy Sheehan characterized Hochul as a "consummate public servant" to The Wall Street Journal in March, adding, "She works hard, she listens to people, she cares." 
Perhaps summing up general opinion of her, The Buffalo News once observed of Hochul that her "personal warmth serves as her political fuel."
Source: Read Full Article