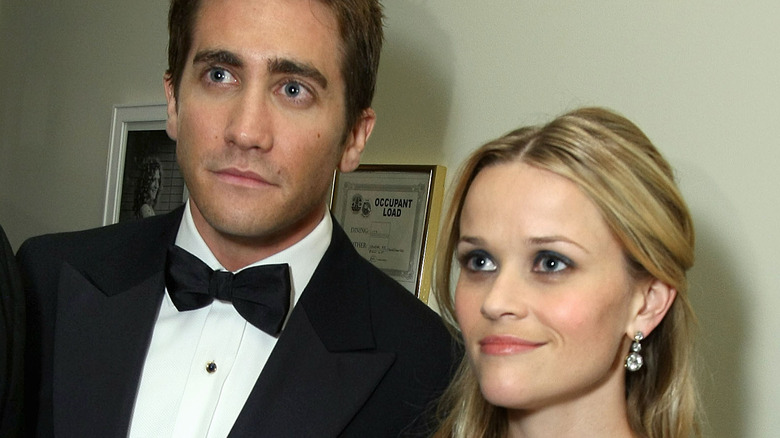 The list of iconic relationships between Hollywood stars is never-ending, but do you remember the time when Jake Gyllenhaal and Reese Witherspoon were an item?
The couple first met on the set of the thriller "Rendition" in 2006 during reshoots in Los Angeles (via People). But it wasn't until 2007 that a spark formed between the actors. According to People, Gyllenhaal was the first to make a move. "Jake finds it attractive that she's such a great mom," a source told the magazine. "He really loves kids and wants a family." 
Prior to their relationship, Witherspoon was married to actor Ryan Phillippe, with whom she shares two children — a daughter and a son (via US Weekly). They separated in 2007 and finalized their divorce a year later. 
When Witherspoon first met Gyllenhaal, she reportedly thought they'd just be friends — largely because she was knee-deep in the divorce proceedings. "Things slowly progressed, but it was never something she thought would happen from the start," a source told People. "She just kind of developed a crush over time."
Their relationship wasn't exactly linear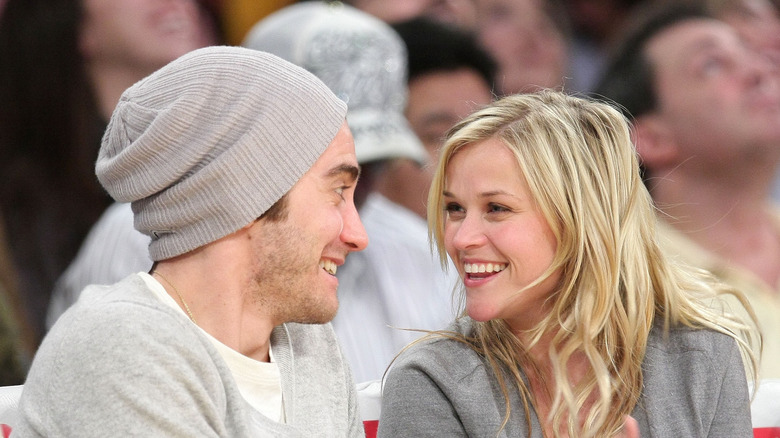 At first, the relationship between Jake Gyllenhaal and Reese Witherspoon proved little more than just a crush after all, as they parted ways the same year the fling began. "Reese was the one who had to do it," a source told People at the time. "She just got out of a divorce and was so concerned with her family, she just didn't have the time for him and he really demanded that." Another source for People went on to explain how the pair were reportedly still friends and that it was a "clean break." They also added that there was "no chance of getting back together."
That soon proved to be false, as the Hollywood stars were spotted cuddling in Rome later that year, a month after her divorce was finalized (via the Evening Standard). Of course, all the canoodling led fans to believe the actors were once again a couple.
Witherspoon spilled the beans during a 2008 interview with Vogue, where she described her beau as "very supportive" (via HuffPost). A year later, the actress gave even more insight into their relationship, mentioning that she and Gyllenhaal not only went to Coachella together but they also spent their weekends at her farmhouse in Ojai, just outside of Los Angeles. "We have chickens and we grow cucumbers and tomatoes," she told InStyle (via Marie Claire). "Jake's a great cook, he does a lot." 
Jake Gyllenhaal and Reese Witherspoon remain close friends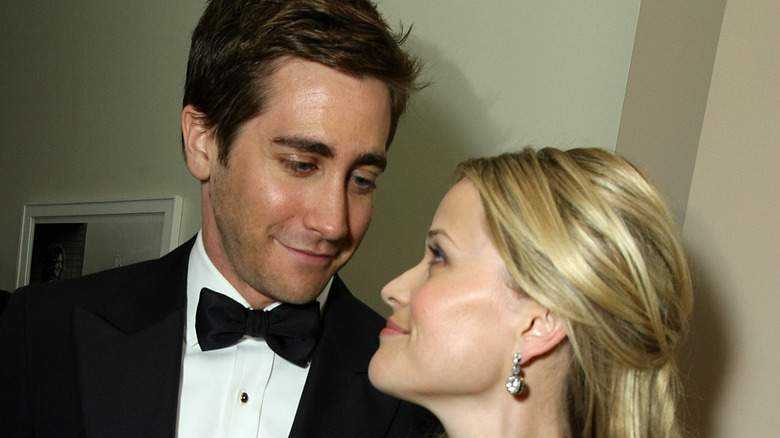 Sadly, the ups and downs weren't over, as reports later that year suggested the couple had split for the final time. "As much as everyone thinks they're right there, they're really not near the whole marriage thing," a source told People. "Jake would marry her tomorrow, but Reese didn't want to go there yet, even though he would like to."
It seems the couple separated on good terms, though, with Gyllenhaal going on to explain his admiration for Witherspoon in 2016. "She is, as I would say about most of the women who I'm close friends with or had relationships in my life, one of the smartest, strongest, people I've ever met," he said during an episode of "The Jess Cagle Interview" (via People).
Their relationship may have been fleeting, but it seems that bond has transformed into a positively strong friendship.
Source: Read Full Article