The following article contains references to eating disorders, addiction, and sexual abuse. 
McKayla Maroney wowed gymnastics fans around the world every time she took flight from the vault apparatus, and her flawless routines helped her earn quite the medal haul. However, while her rapidly twirling star burned bright, her athletic career would be brief.
Maroney's list of accomplishments includes winning two Olympic medals and three World Championships gold medals, along with over a dozen other awards in national and international competitions. She became known for her exceptional execution of the twisty Amanar vault, which she performed so perfectly that she made a judge's jaw literally fall open at the 2012 Olympic Games in London, as reported in Daily Mail. The "Fierce Five" member didn't always have to win gold to prove that she was a true champion, and she performed at the top of her game while enduring trauma that her fans were completely unaware of.
In May 2021, Maroney tweeted that "it felt like my purpose" to go to the Olympics, but she had no idea what she was getting herself into when she began pursuing her dream. "I was never informed about the costs, and wish I would've known some of them," she wrote. "For example that it would take me 5 full years to mentally and physically heal from the intensity of what I went through." Read on to learn how she transformed into a top athlete and what she decided to do when gymnastics were no longer an option.
Why McKayla Maroney quit gymnastics at a young age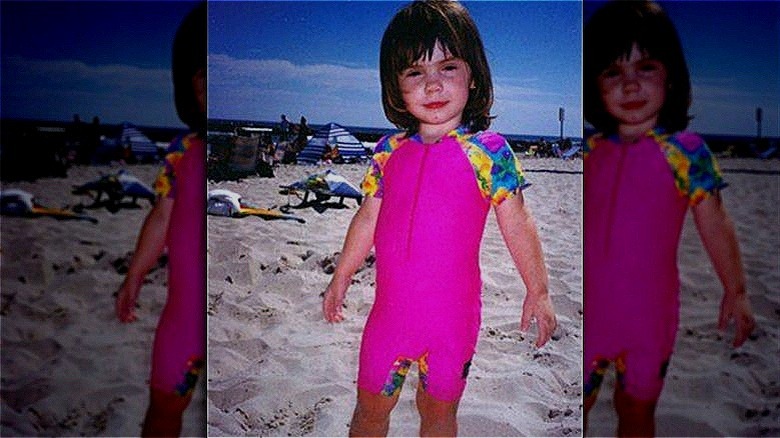 McKayla Maroney was born on December 9, 1995. The Long Beach, California, native became interested in gymnastics as a toddler, thanks in part to her obsession with the movie "Tarzan," according to the Los Angeles Times. In a 2014 interview with the outlet, her mother, Erin Maroney, said that McKayla wouldn't stop imitating the ape-like movements of the film's titular character. "'We'd be in the grocery store and I'd be asking her to walk upright, please,'" she recalled. In her USA Gymnastics profile, McKayla explained that her mom thought gymnastics would help her burn off the "insane amounts of energy" that she exhibited.
When McKayla was 18 months old, Erin started bringing her to mommy and me classes. In a May 2021 tweet, the future elite athlete recalled how much fun she had during those early days. "The gym is like this huge playground. You bounce on trampolines, swing on ropes, and play in pits," she wrote. By age two, she shared in a 2012 episode of "USA Gymnastics: Behind the Team, she was learning the skills that would help her become an Olympic champ. However, she faced a minor setback on the road to superstardom and quit the sport for six months. "I needed my naps," she said in the "Behind the Team" special. She recalled crying in class and refusing to move because she was so grumpy. When she returned, she fell in love with gymnastics "all over again."
McKayla Maroney carpooled with a future member of the Fierce Five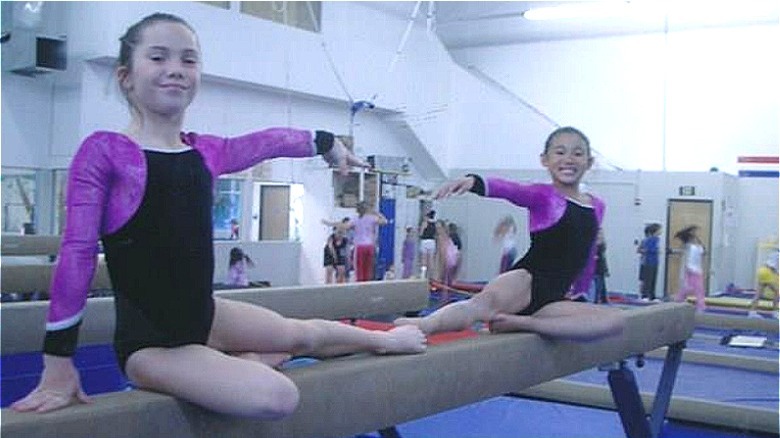 McKayla Maroney's father was 6'2″ and was once a quarterback for Purdue University, so she likely got some of her natural athletic talent from him (via Los Angeles Times). As she grew up, she worried that she would inherit something else from her dad. "People would just tell me all the time, 'You're going to be so tall. You're not going to be able to go to the Olympics,'" she said during a 2016 GymCastic interview. Luckily, she ended up being the same height as her mother: 5'4″.
When the petite powerhouse was training at Gym-Max Academy of Gymnastics in Costa Mesa, California, she met her BFF and future Fierce Five member Kyla Ross. "We were carpool buddies," Maroney said in a 2013 USA Gymnastics interview. However, they wouldn't remain gym-mates. In 2009, Maroney decided to transfer to the All Olympia Gymnastics Center, where she trained with coaches Artur Akopyan and Galina Marinova (via Bleacher Report). Maroney told Inside Gymnastics Magazine that Ross played a pivotal role in her decision. She explained that her friend had made the national team and was traveling with one of their coaches, so she wasn't getting the amount of coaching that she needed. "It was move gyms, or become an ice skater cuz I was really about to quit," Maroney tweeted in 2021. "I was balking on all my skills and felt depressed with how stagnant things got."
The moment McKayla Maroney realized going to the Olympics was within her grasp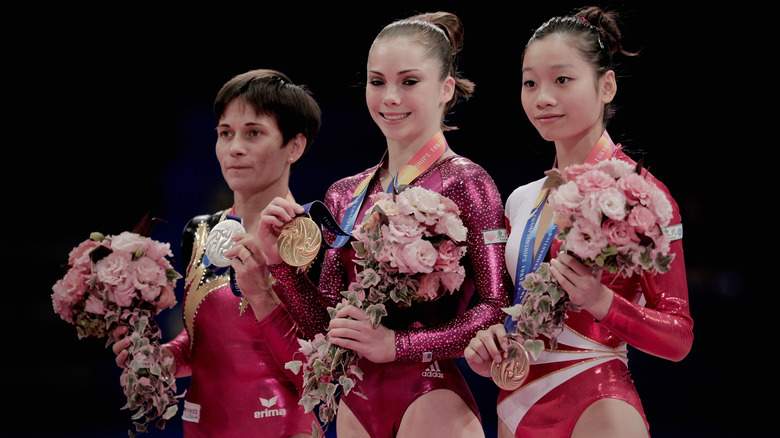 Switching gyms ended up paying off for McKayla Maroney in a big way. She was excelling in competitions, but one particular success made her start to realize that going to the Olympics was within reach: her first place finish in vault at the 2011 World Championships in Tokyo. "That was the moment that I was like, this is gonna become my dream, and I'm gonna make it reality," she shared with Inside Gymnastics. After the event, she revealed that she got a little helpful advice from a former Olympian. "It feels amazing to be the best vaulter in the world. Alicia [Sacramone] told me to be aggressive and that's what I tried to do," she said, per USA Gymnastics.
Maroney told the Los Angeles Times that her teammates poked fun at her over the expression on her face as she stood on the podium with her gold medal around her neck. "They said I wasn't smiling," she stated. "I think I was smiling. I felt like I was smiling. I don't know, it is just so great." Little did she know that the whole world would be talking about her face just a few months later. But before she became an Olympic meme, she had to make it to the U.S. Olympic Trials.
Why McKayla Maroney was not impressed with her second-place Olympic finish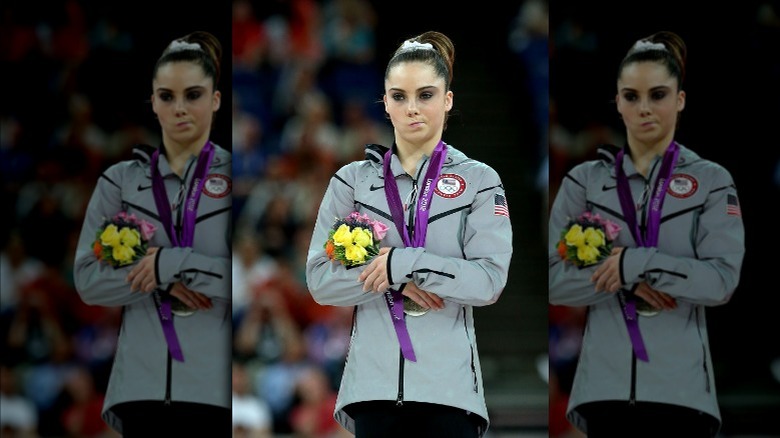 McKayla Maroney's journey to the 2012 Olympics in London was far from easy. Less than a month before the U.S. Olympic Trials, she suffered a nasal fracture and a concussion during warmups at the Visa Championships (via FloGymnastics). She was cleared to compete in the Trials, where her high-scoring vault secured her spot on the U.S. Women's Gymnastics team (via Reuters). The other gymnasts who would be joining her in London were her childhood friend Kyla Ross, Aly Raisman, Gabby Douglas, and Jordyn Wieber. By the time they got to the Games, Maroney had been dealt another blow: She exacerbated an old injury and had to compete with a broken big toe. "I've worked so hard to be here. I can ignore the pain," she told The New York Times.
She did exactly that, and the vault that she called "godly" in an interview with Inside Gymnastics Magazine? It helped her and her compatriots bring home the gold in the team all-around competition. However, when she got her shot at an individual medal in her best event, she failed to stick her landing and finished second. While she was standing on the podium, she scrunched her lips to the side and launched a million memes, along with a "McKayla Maroney is Not Impressed" Tumblr page. The explanation for her annoyed facial expression was simple: She was disappointed in herself. "At the end of the day, I was sad. I was upset. And I was not impressed," she told Inside Gymnastics.
McKayla Maroney played a murder suspect on Bones after fracturing a bone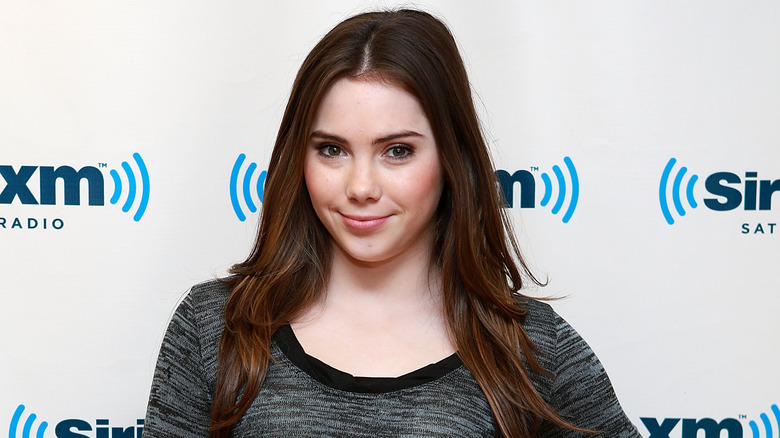 After the Olympics, McKayla Maroney got to make her unimpressed face with Barack Obama, and she rubbed elbows with celebrities at the MTV VMAs. However, she wasn't just enjoying the perks of being an Olympian. While touring with her teammates in September 2012, she fractured her tibia and had to undergo surgery immediately, as she recalled to GymCastic. In the same interview, she said she also decided to have surgery on her injured toe and had to have screws removed from her leg because they were "popping out." After recovering from the procedures, she went on to win gold in the vault at the 2013 World Championships in Antwerp, Belgium.
Weeks later, Maroney found herself unable to hit the gym due to an avulsion fracture to her right patella. While she was recovering, she received an offer to appear in an episode of "Bones" as a murder suspect who also happened to be a gymnast. She had previously scored a recurring role on "Hart of Dixie." "Injuries are just awful, but at least I had 'Bones' to work on when I wasn't training," Maroney explained in International Gymnast Magazine. "It got my mind off the fact that I couldn't do anything." However, she did actually get a little gymnastics practice in when she had to do "70 takes" of a tumbling sequence. Maroney told Inside Gymnastics that she's wanted to act since she was a child, but her sport just demanded too much of her time.
McKayla Maroney fought back against hackers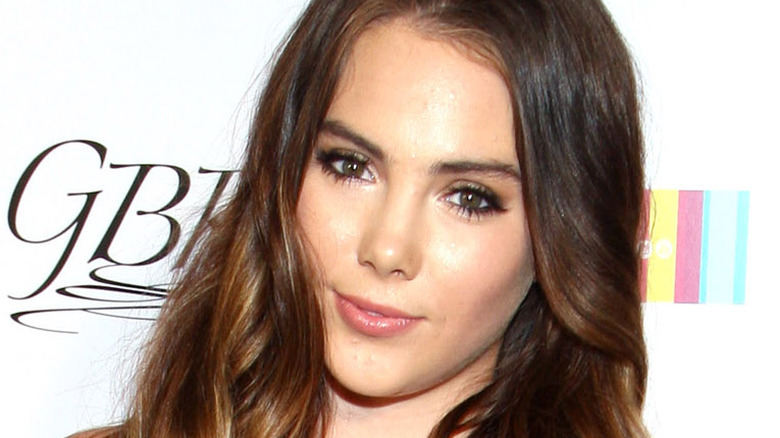 In 2014, McKayla Maroney was a victim of the hackers who stole nude photos from celebrities and leaked them online in a massive invasion of privacy that became known as "The Fappening." Its dozens of famous victims also included Jennifer Lawrence, Kate Upton, and Amanda Seyfried.
In a since-deleted September 1, 2014 tweet, Maroney accused someone of creating "fake photos" of her (via Page Six). And when porn sites began sharing images purporting to show the gymnast, her lawyers threatened to take legal action against the publishers. According to TMZ, one letter from her attorneys said that she was underage in the pictures, while another informed the offending parties that Maroney owned the copyright to them. This tactic proved somewhat effective, as at least one website took the images down. According to BuzzFeed, Redditors were also informed that any nude photos of Maroney or links providing access to them would be removed from the website.
2014 wasn't just a tough year for the gymnast because of the hacking. A month earlier, she told USA Gymnastics that she was feeling "really emotional" at the U.S. Secret Classic because she was unable to compete. She revealed that she had developed tendinosis in her knee after the 2013 World Championships. "There was no blood flow in my leg, and there was way too much scar tissue," she said. Because of this, she had to undergo yet another surgery.
Why McKayla Maroney gave up on making it to the Olympics again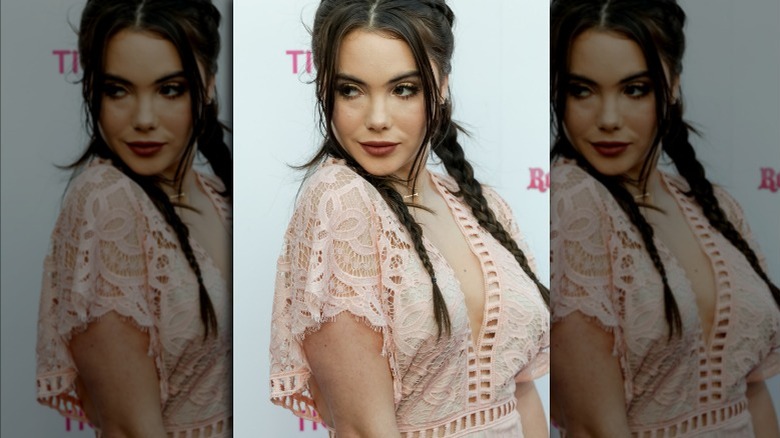 The Olympics in Rio de Janeiro took place in 2016, and McKayla Maroney had originally hoped to be there. However, there would be no road to redemption for the brilliant vaulter. While she made her airborne twisting and spinning look effortless, her stellar performances had taken their toll on her body. In February 2016, she told GymCastic that her days of competing were behind her, but refused to say that she was retiring. Instead, she endorsed a tweet that read, "Can we just say she's evolving bc it makes her sound like a Pokemon and I like it."
Maroney shared with GymCastic that she began suffering from recurring burnouts at the gym in October 2014. "I was so unhealthy and tired that I couldn't get out of bed," she recalled. She eventually realized that one reason she was finding it so hard to step away from competing was that she "didn't know how to be okay with not being a gymnast." She came up with the idea to "pretend" like she was quitting, and she finally let go. "I just felt a weight lift off me," she stated. 
Luckily, Maroney had another pursuit she was passionate about. As she told Us Weekly, she wanted to create "vulnerable pop" music. "I have some demos done and I'm going to be showing them to some bigger people in the industry and we'll see where that takes me," she shared with Seventeen.
Fans didn't know how to feel about the new McKayla Maroney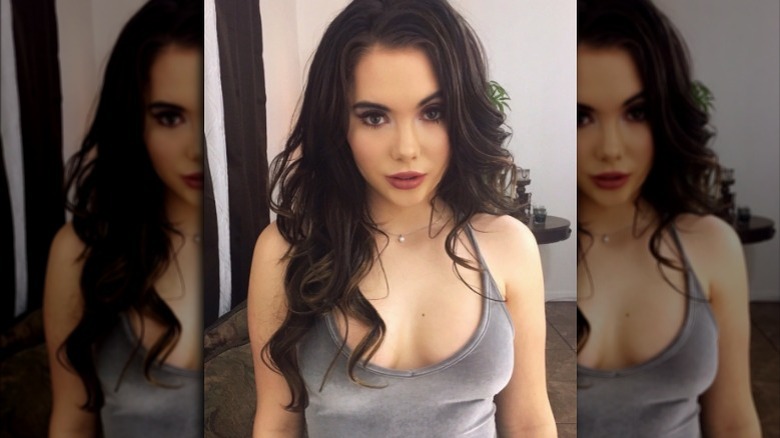 In May 2017, McKayla Maroney shocked some of her Instagram followers by sharing a now-deleted video of herself dancing in a black thong. The racy footage was so unexpected that she later had to reassure her fans that she "didn't get hacked" (via The New York Post). She advised critics of the post to quit following her, and she had another message for them on Twitter. "Hey, im just doing me. if u want me to be a role model so bad, get inspired by how i give 0 fcuks and go do u," she wrote. A month later, Hollywood Life reported that she showed off a few more "sexy dance moves" on her Instagram stories while teasing a cameo in a Wade Hampton music video.
Maroney's new image included fewer slicked-back ponytails with scrunchies and more makeup. She revealed to Seventeen that some fans were thrown off when they saw her rocking over-lined lips and eyelash extensions. "I don't mean to freak anybody out. At the end of the day, I have changed," she told the magazine. "I can't blame anybody for saying, 'Oh, she changed!' You know, because I have." She credited her friend, beauty vlogger Alexa Losey, for helping her get more into makeup. Experimenting with cosmetics made her look so different that some fans were convinced that she'd undergone a cosmetic procedure. However, she denied speculation that she had gotten lip injections.
McKayla Maroney spoke out against the doctor who abused her for years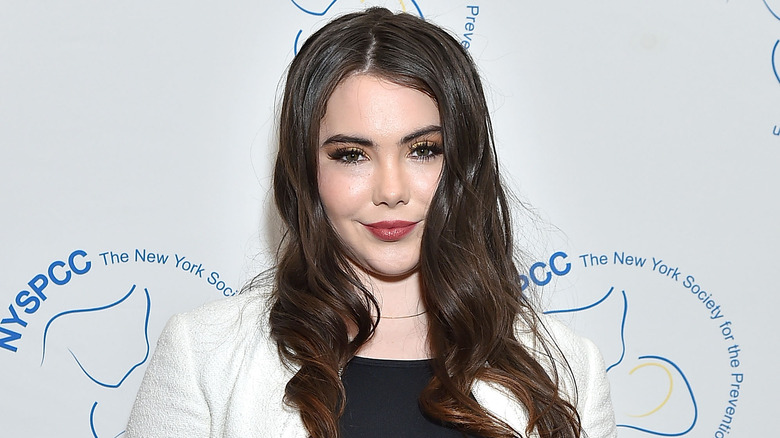 McKayla Maroney first revealed that she was one of Dr. Larry Nassar's hundreds of sexual abuse victims in a 2017 Twitter post. She accused the former USA Gymnastics national team doctor of molesting her under the guise of performing a "medically necessary treatment." The following year, she spoke to Dateline about her horrifying experiences (via NBC News). She revealed that the abuse started the very first time Nassar examined her and happened "hundreds" of times. At the World Championships in Tokyo, his behavior escalated to the point that she feared for her life. "I thought I was going to die," she said. "I didn't feel like it was him anymore. It was this other thing that took over."
Maroney learned from teammates Aly Raisman and Jordyn Wieber that Nassar was also molesting them, but it wasn't until 2015 that USA Gymnastics became aware of what was going on and sent a consultant to talk to Maroney about the abuse. By that point, she said she was "suicidal." In January 2018, her impact statement was read at Nassar's sentencing hearing. She described him as "a monster of a human being" and expressed her hope that he would spend the rest of his life in jail so that he would "never prey upon another child." On January 24, 2018, Nassar was sentenced to 40 to 175 years in prison, per ABC News.
If you or anyone you know has been a victim of sexual assault, help is available. Visit the Rape, Abuse & Incest National Network website or contact RAINN's National Helpline at 1-800-656-HOPE (4673).
If you or anyone you know is having suicidal thoughts, please call the National Suicide Prevention Lifeline​ at​ 1-800-273-TALK (8255)​.
McKayla Maroney starved herself after tragedy struck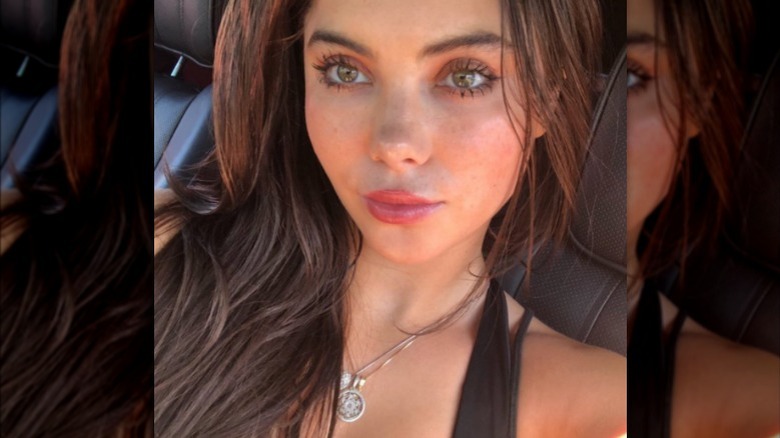 In January 2019, McKayla Maroney shared the tragic news that her father, Mike Maroney, had passed away at the age of 59. "Love u dad. I can't believe it's real. I don't want to. I'll miss you forever. Rest in peace. You were the most incredible dad," her now-deleted Twitter message read, according to People. A year later, she used her Instagram stories to reveal his cause of death.
As reported by Popculture, McKayla recounted how her dad informed the family that he was addicted to pain pills and was going to try to kick the habit on his own while staying at a hotel. "He died trying to detox, quit from pain pills," she said. "He could have just gone to a rehab place and done it right. He didn't and he passed away."
In a post on her health and wellness Instagram page, McKayla revealed that she was "at a true low point" in her life when her dad died, and it wasn't just because she lost a loved one. She revealed that she'd been isolating herself and rarely leaving the house, and the prospect of attending her father's funeral made her do something dangerous. "I then fasted 'starved' myself for 10 days to be skinny enough for his funeral," she wrote. "I almost didn't want to go, just because of how I looked." She credited a binge-eating course with preventing her from engaging in such behavior again.
If you or anyone you know is struggling with addiction issues, help is available. Visit the Substance Abuse and Mental Health Services Administration website or contact SAMHSA's National Helpline at 1-800-662-HELP (4357).
If you are struggling with an eating disorder, or know someone who is, help is available. Visit the National Eating Disorders Association website or contact NEDA's Live Helpline at 1-800-931-2237. You can also receive 24/7 Crisis Support via text (send NEDA to 741-741).
McKayla Maroney released a timely tune about life under lockdown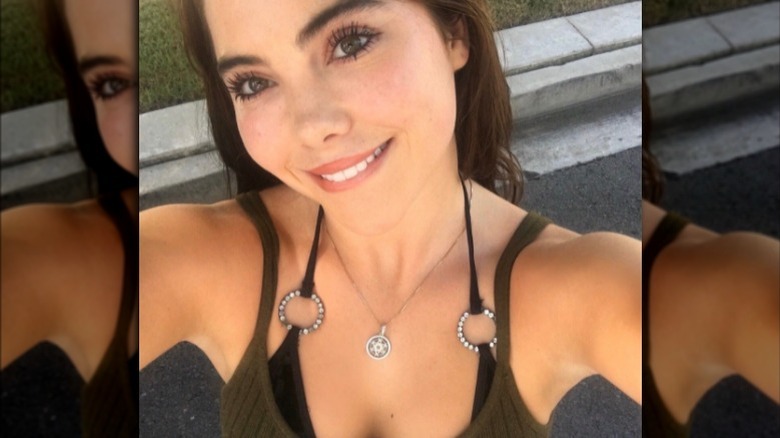 During the early days of her music career in 2016, McKayla Maroney listed Taylor Swift as one of her biggest musical influences, and she told Us Weekly that her "favorite thing to sing about is love." However, it wouldn't be until March 2020 that she finally dropped her first single, a song about moving on titled "Wake Up Call." A month later, she'd discovered a new musical muse: the COVID-19 pandemic.
Maroney tried her hand at rapping in "COVID Lockdown," which featured hip-hop artist JIG LeFrost. "Icing on the cake / gaining weight / COVID lockdown / I don't want to wait," Maroney sang. She complained about a host of other pandemic problems, like having to stand six feet away from other people and missing her "bae." She tweeted that the song was meant to be a "joke," but suggested that it was just what the overworked doctor ordered. "We could all use a laugh right now," she wrote. In another tweet, she updated her fans on what she was doing to keep herself busy during lockdown. She revealed that she was taking singing lessons, cleaning, sunbathing, working out, and planning her next music moves. "Distraction is powerful!" she wrote. "Find a way to turn this time into a blessing in disguise."
McKayla Maroney revealed her next big endeavor after a health scare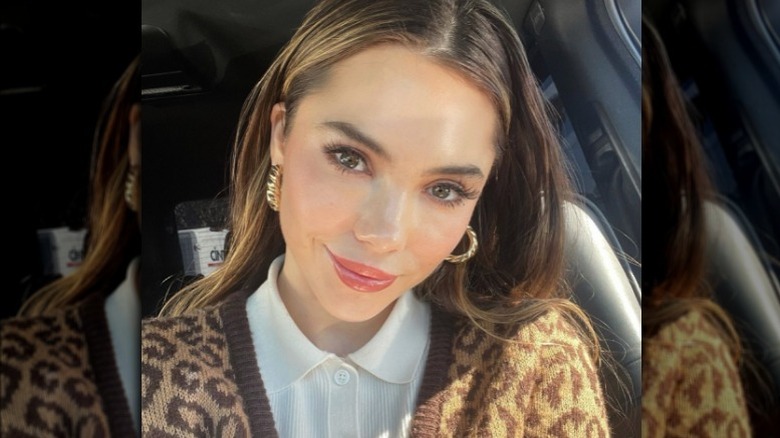 In 2021, McKayla Maroney made a gymnastics comeback of sorts by appearing in a comedic GEICO ad. She also had to be hospitalized again, and this time it had nothing to do with gymnastics. According to People, she used her Instagram stories to document a trip to the ER, where she learned that kidney stones were the cause of the vomiting and abdominal pain that she'd been experiencing all day. She had to undergo surgery to have them removed, and a temporary stent later caused an infection. "The morning before removal I started feeling so sick, I passed out and hit my head on the corner of my bedroom wall," she wrote.
Luckily, Maroney fully recovered from her ordeal, and she teased a big new project when she returned to social media: a book about her life. "I'm extremely excited to share my story, and all the things I learned from being an elite gymnast," she tweeted. "It felt too hard to write about before, but I'm ready now." She endured a lot of pain and sacrificed so much to win her silver Olympic medal, which she is now pretty impressed with. "I am the person I am today because of that fall," she told Inside Gymnastics. "And if you ask me if I could go back and win a gold, I would say, 'No thank you. I love my silver medal.'"
Source: Read Full Article