Jeff Bezos is spreading a bit of wealth. The Amazon founder became the second billionaire in history to fly into space in his own aircraft, per CNN, on July 20. Richard Branson previously beat Bezos to the punch when he was launched into space on his Virgin Galactic rocket the week prior. Bezos, though, flew on Blue Origin's New Shepard Rocket with his brother, an 18-year-old from the Netherlands, and an 82-year-old pioneer from Texas — the youngest and oldest to fly into space, making the space race competition even more entertaining, according to The Guardian.
Though Bezos' space trip only lasted 11 minutes, he called it "the best day ever" and added that he felt "unbelievably good" after his spacecraft landed back on Earth. In his post-flight press conference, Bezos also reiterated that his space tourism business is to encourage people to pursue careers in science and "preserve" this planet. Bezos also dropped a big surprise on CNN's Van Jones by giving him $100 million. Find out why Bezos was feeling so generous below.
Jeff Bezos made Van Jones' 'dreams come true'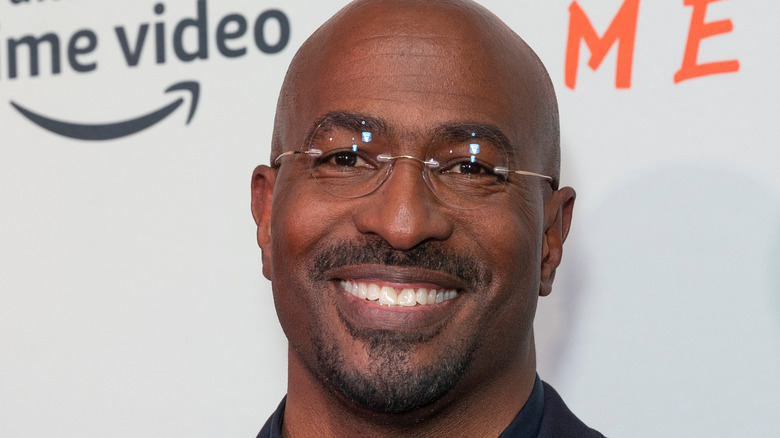 As the richest man in the world, Jeff Bezos has never been shy about spending or donating his money. After his journey to space on July 20, Bezos surprised everyone when he announced at his post-flight press conference that he was giving out $100 million "Courage and Civility" awards for two recipients. One recipient was CNN contributor Van Jones. "They can give all to their own charity or they can share their wealth. It's all up to them," Bezos said at his press conference, according to Deadline. Per the Independent, Bezos called the prize a new "philanthropic initiative" that aims to support people and their ideas.
"Sometimes dreams come true," Jones said after Bezos' announcement was made, while adding that "the headlines around the world should be, anything is possible if you believe." Jones later explained that Bezos called him a few days before the space launch about his plans. "He said that he thought that my attempts to try to bring people together across party lines, across racial lines had been inspiring, and can I use some more support," Jones said, emphasizing the money will be used "to give to others who have a similar spirit."
Source: Read Full Article