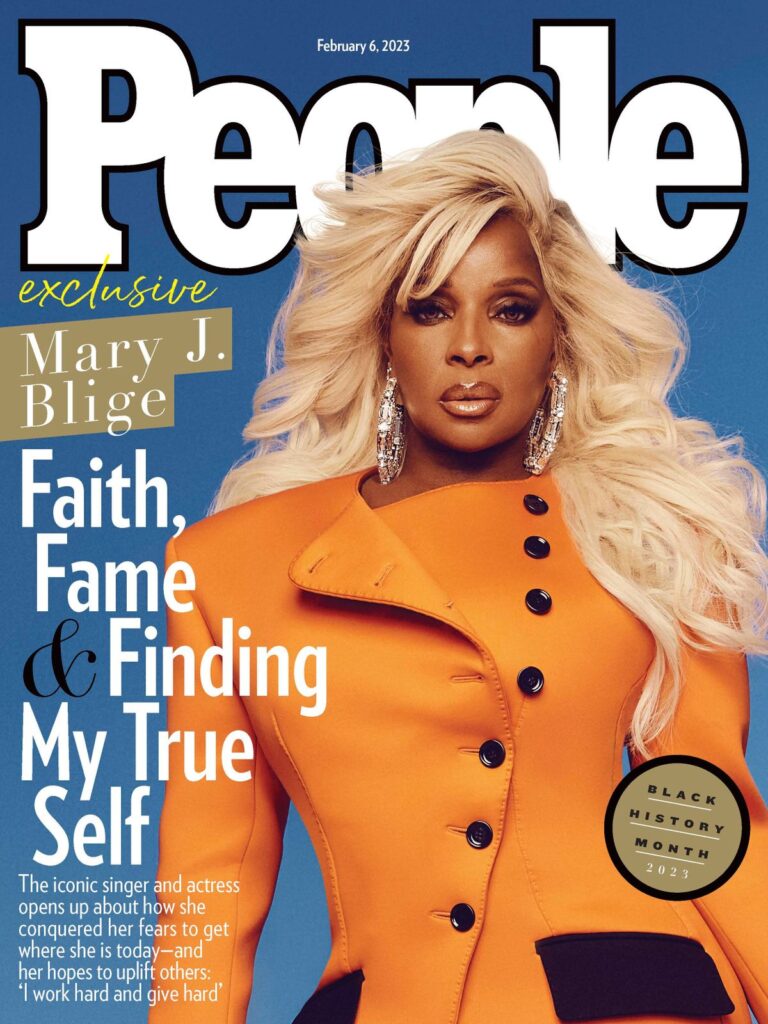 People got an exclusive with Mary J. Blige. Fortunately, they did her justice in both these photos and in the interview. I adore Mary, both her music and who she is. I like that she puts her heart on the table, even at her level of fame. She talked to People about how she's at peace after overcoming much from her tumultuous earlier years. Part of that process is accepting who she is and how much she has to offer. This includes the accolades that are due her and making herself priority number one. Both of those things Mary had to learn to do. Now that she has, she's reaping the benefits.
Mary J. Blige has released 15 studio albums (and sold more than 100 million of them). She's returning to the third season of the Starz series Power Book II: Ghost next month. Now 52 and into her fourth decade in the music business, she arrives on the PEOPLE photo shoot set amid a flurry of activity. She's ready. "I've been doing this for a minute," she says. "I'm no rookie."

Considering she's music royalty, that might be hard to believe. Blige is the Queen of Hip Hop Soul, after all. A title given because she created the genre — blending hip hop and R&B — something she says she's receiving credit for now.

"Being the trailblazer ahead of that whole movement," she says, "I honestly can say back then I didn't know what I was doing. I was just making music. I feel like I'm getting the credit that I deserve now, but for a while, people were just passing by me. I don't blame anyone. I was passing by myself."

Raised in Yonkers, New York, Blige's weighty mezzo-soprano voice (only outmatched by her deft, confessional storytelling) led her from the housing projects to a recording studio by the time she was 18. Her debut album, released when she was 21, revealed her tough upbringing — and rocketed her to stardom with the hits "Real Love" and "You Remind Me" — but it was her 1994 album My Life where she irrevocably fused hip hop and R&B and started an authentic conversation with her fans. And she's never stopped sharing.

She's laid it all out there, from suffering from substance abuse and heartbreak to struggling through recovery from both. Now single, she says she's turned yet another corner. "Mary J. Blige is happy. Happy with herself and happy with her life." And she's got a new focus: "me."

"I didn't care about myself," she says. "I didn't love myself. You get what you're giving yourself. So now that I'm giving to myself, I'm getting it all."
[From People]
"For a while, people were just passing by me. I don't blame anyone. I was passing by myself," if I take anything from Dr. Blige's lesson today, this will be it. Dan Levy said something similar on that The Big Brunch show to a contestant. Dan said a casting director told him that walking into auditions with his humorous but self-deprecating comments didn't make him look humble, it convinced the director he was unhireable. I'm glad Mary recognizes now that she deserves the credit – all the credit – that she gets. She's carved the way for so many artists, she should have the highest pedestal reserved for her.
The concept of needing to love yourself before anyone else can love you is not new. I prefer Mary's take, that we don't need anyone else to love us if we truly love ourselves. She has a whole ritual in the morning where she greets herself in the mirror with positive affirmations. It's lovely. This is one of those interviews I needed to read, but I'm just not quite in the mindset to absorb what it says yet. That's what bookmarks are for, right?
https://www.instagram.com/p/CnfSHglJpIQ/
https://www.instagram.com/p/CnVIMZ9J6y_/
Photo credit: AB + DM/People and Instagram
Source: Read Full Article