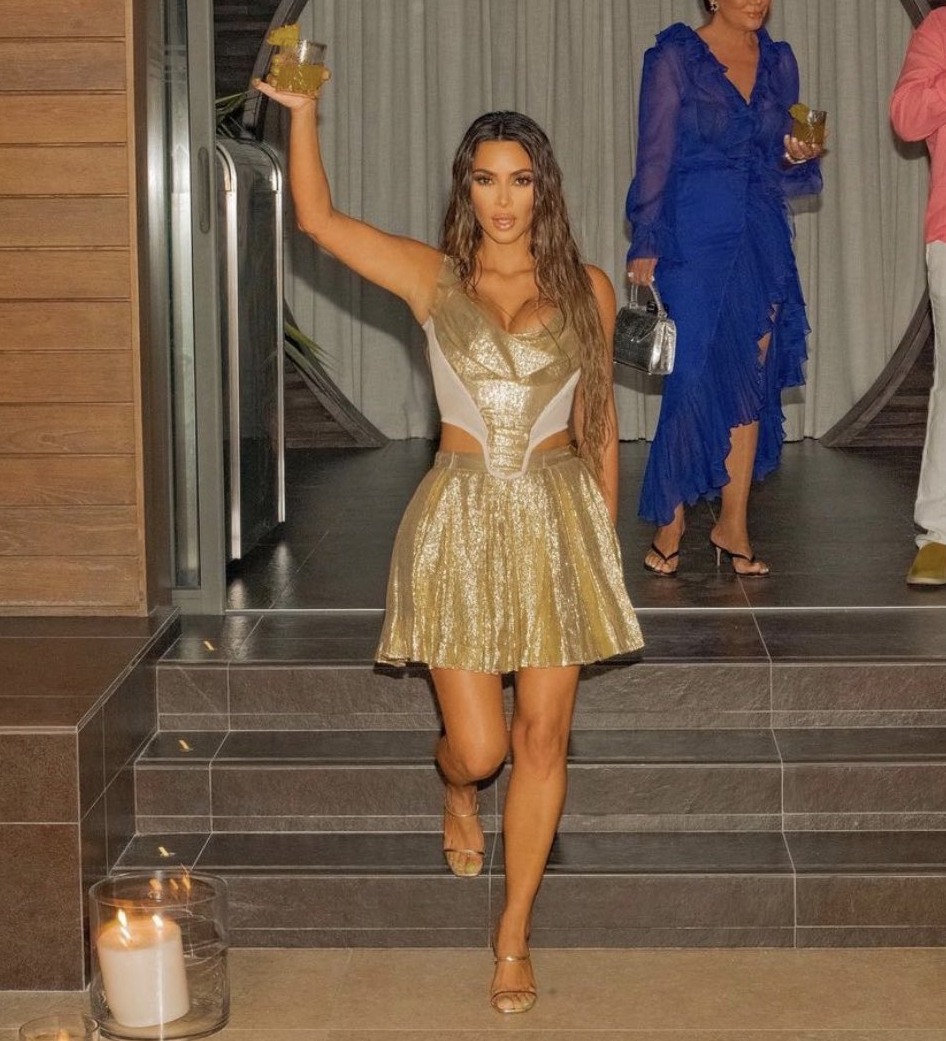 I've only seen my mom once in person in the past seven months, and we both had to wear masks and social-distance. My story is not unique – around the country, people are making the choice to keep their distance from loved ones and friends because of the pandemic. Which is one of the reasons why Kim Kardashian's birthday party posts came across as so tone-deaf. She emphasized that she asked all of her friends and family to quarantine themselves for two weeks, all so she could surprise them with a trip to a private island halfway across the world. Anyway, we're getting more details about the party and the island:
Kim Kardashian spent $1 million to fly her family and friends on a private jet to celebrate her 40th birthday on one of the world's most breathtaking private islands in Tahiti, Page Six can exclusively reveal. Kim chartered an 88-seat Boeing 777 last week to fly a group of under 30 to The Brando, a luxurious private island resort in French Polynesia with just 35 villas.

Her group — which included sisters Kourtney Kardashian, Khloé Kardashian and Kendall Jenner, brother Rob Kardashian and mom Kris Jenner — were treated to a host of lavish dinners, spa visits and guided treks through the lush island, known locally as Tetiaroa Atoll and famed for its stunning blue lagoon.

A source told us, "The group was limited to Kim's closest family and friends. Everyone on the trip was repeatedly tested for COVID before they left in the middle of the night on a private Boeing 777. Once on the island they had lavish dinner after dinner, spa treatments and hikes through the nature sanctuary. There was no expense spared. Everyone was banned from posting on social media by Kim to ensure her privacy."

They jetted out of Los Angeles on Oct. 20 on Crystal Cruises' Boeing 777-200LR, which features 88 flat beds, a restaurant and a bar, and returned home five days later.

Her group took over the entire breathtaking island, which features 35 one-, two- and three-bedroom villas, which all have private pools and rent for up to $20,000 a night plus tax. There are numerous white sand beaches, a shimmering lagoon — where Kim later posted bikini pictures of herself on Instagram — and vibrant coral reefs.

The Brando Resort — Marlon Brando's private island — is known as one of the finest eco-friendly resorts in the world. It also offers two gourmet restaurants, two hotel bars, a luxurious spa and an organic fruit orchard and vegetable garden.
[From Page Six]
Would you spend $1 million to bring your friends to a private resort to cosplay normalcy in the middle of a pandemic? Would you trust 50 people to quarantine for two weeks just so they could enjoy a maskless, five-day, all-expenses-paid vacation? Eh. It seems like a lot of work when Kim could have just ordered a cake for herself and stayed in LA. But that's just me. And I totally forgot that Marlon Brando bought an island in the South Pacific. He was the original "owning a private island" celebrity.
Kim is trying to save her reputation.
— Kim Kardashian West (@KimKardashian) October 28, 2020
Anyway, I absolutely 100% love the meme that sprang up out of this mess.
— MoMA The Museum of Modern Art (@MuseumModernArt) October 27, 2020
— 🥀🥀🥀 (@spooky_t0fu) October 28, 2020
— Tennis TV (@TennisTV) October 28, 2020
Photos courtesy of Kim's social media.
Source: Read Full Article