The 'Claws' star appears to be exposing her bare breasts in the silver outfit courtesy of a realistic looking breast plate as she attends a Halloween party in Los Angeles.
AceShowbiz –Karrueche Tran's Halloween costume could make her fans do a double take. The actress/model looked topless as she went all out when attending a party to celebrate All Hallow's Eve in Los Angeles over the weekend.
For the celebration on Saturday night, October 29, the 34-year-old star wore a body hugging outfit as she channeled a robotic warrior queen. She appeared to be exposing her bare breasts courtesy of a realistic looking breast place.
The elaborate costume featured silver body armor from head to toe, including boots, a mini skirt and bustier, with cheeky red lamps in place of the nipples. She completed her transformation with silver makeup highlighted with bright pink lips and turquoise eye shadow. The "Claws" star also wore a black head covering with a sort of crown and some clear wrap around glasses.
The Halloween celebration didn't stop that night for Karrueche. The next day, she turned into a sexy Playboy bunny in a black bodysuit with see-through stockings, a white collar, white hand bands and a pair of bunny ears. She also wore a long red wig.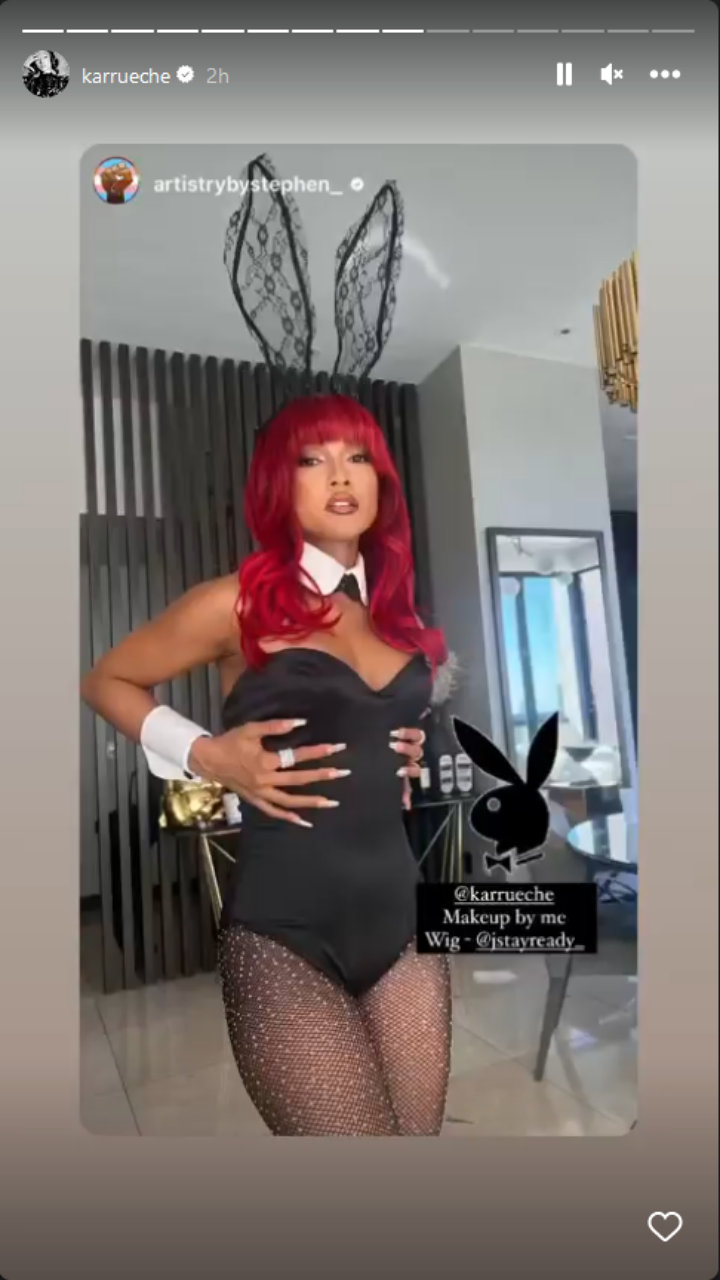 Karrueche Tran turned into Playboy bunny for her second Halloween costume.
Karrueche has just begun hosting a new fashion competition show, "Upcycle Nation", which airs on Fuse.Tv. Speaking of the show, she recently told KTLA, "It's a fashion competition show about repurposing and upcycling old items. A lot of household items and creating new wearable, beautiful pieces."
"I hope it influences people to understand the effect (fast fashion) has on our planet and to get creative and work with old garments or old household pieces," she added of the aim of the show. She went on gushing about the contestants, "We had so many talented designers on the show, and they created some beautiful pieces I would absolutely wear."
Source: Read Full Article