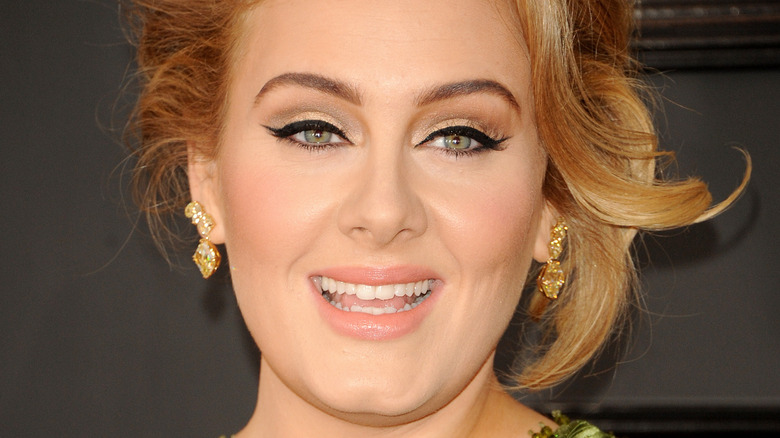 As many artists do, Adele uses music as an outlet for the moments in life that have affected her most. Throughout her career, the British singer has sung of heartbreak, loss, and forgiveness, which is set to follow on with her fourth studio album (via Harper's Bazaar).
Adele and her now ex-husband Simon Konecki finalised their divorce in 2021, and it seems her next record is "going to be released very soon" a source told E! News, adding, "We're going to hear about her divorce and what she's been going through." There's also a possibility this untitled album could feature some songs about her alleged new love with a certain British rapper, but more on that later.
It seems that this next record will feature a hefty amount of anthems about heartbreak and reflection, but how have her previous relationships affected her songwriting style? Read on for more insight into Adele's dating history.
Adele's first boyfriend cheated on her which inspired the song "Chasing Pavements"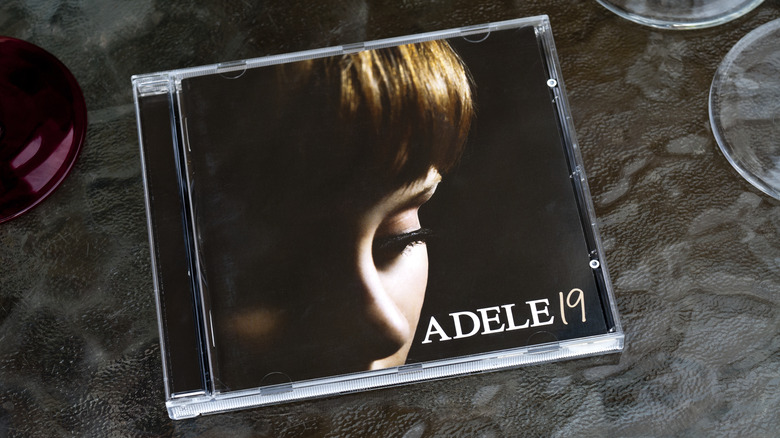 In 2016, an excerpt from Sean Smith's biography on the singer (via the Daily Mail) revealed that her first boyfriend largely inspired her debut album. Adele had been dating him for three months and discovered that he had been cheating on her. Smith writes that as soon as she found out, she made her way to a bar in London's West End where he was drinking and "punched him in the face." She was quickly escorted off the premises.
"I got thrown out, and as I was running away, the phrase 'chasing pavements' came to me," she explained. "I sang it into my phone." When she got home, she immediately went to her room and "roughed out three chords on the guitar," and that's how "Chasing Pavements" was born. Three weeks after the breakup, she'd already written nine songs that would appear on her first album.
A few years after the release of "19," Adele explained that he wanted a cut of the royalties from the album for being its primary inspiration. "For about a week he was calling and was deadly serious about it," she told The Sun (via NME). "He really thought he had some input into the creative process by being a p***y. I'll give him the credit – he made me an adult, and put me on the road that I'm travelling."
The breakdown of Adele's second relationship led to "Someone Like You"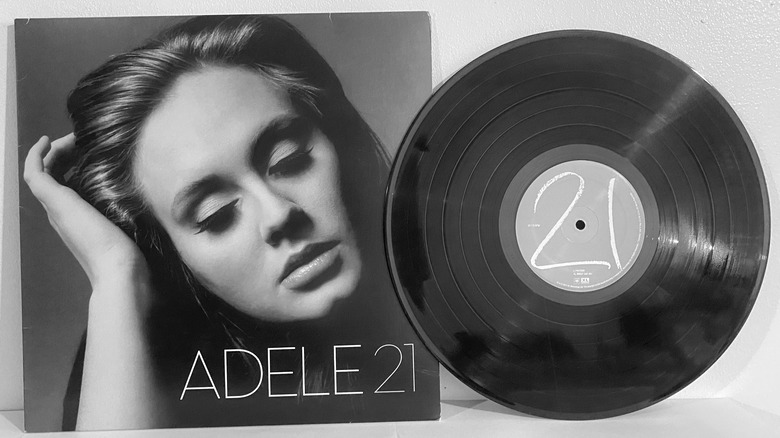 Adele would eventually find love again with the man that inspired her second album, "21." While the singer has only ever referred to this man as "Alex" (via the Daily Mail), a source told The Mirror that it was Alex Sturrock, a photographer throughout her "Evening with Adele" tour (via 9Honey).
As Smith wrote in his biography of Adele, her second boyfriend was "ten years older, cultured and artistic" and that they spent the majority of their time "staying in, cooking, and watching films or going to low-key restaurants."
However, fame and alcohol reportedly played a significant part in the breakdown of their relationship. Adele described alcohol as being "the basis of [her] relationship" with Sturrock, and that she was "being an idiot and getting drunk." However, she later clarified that their breakup was relatively amicable. "Nobody did anything wrong," she explained. "We just fell out of love with one another. I had to deal with the devastation of feeling like a failure because I couldn't make things work."
A few months after they split Adele discovered that not only had her ex-boyfriend moved on to someone new, he'd also got engaged. This event was allegedly the catalyst for her smash hit "Someone Like You."
The singer was frightened at how serious her relationship was getting with Simon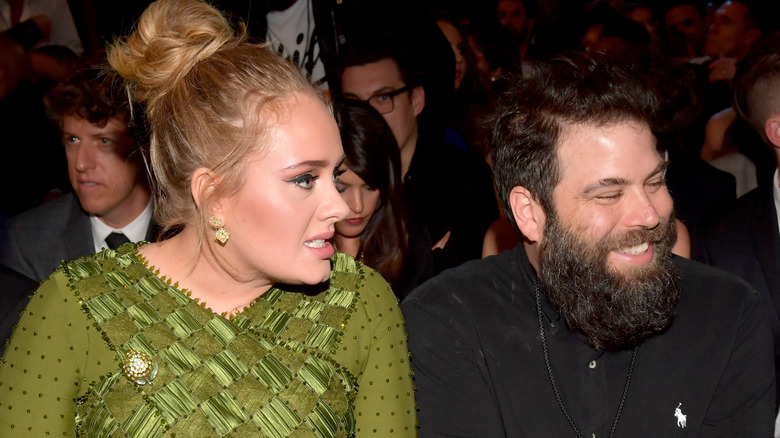 From 2011 to 2019, Adele was in a relationship with Simon Konecki who she was married to for two years. The pair also has a son, Angelo, born in 2012 (via Us Weekly). The singer has been pretty private about the relationship, but she did open up during an interview with Vanity Fair in 2016. "It's the most serious relationship I've ever been in […] All the other people I ever was with were so insecure about themselves – they couldn't handle [the fame]," she explained, adding that "Simon is already who he is, and I'm still becoming who I'm going to be. He's confident. He's perfect."
She also revealed that "Water Under The Bridge" from "25" was about Konecki during an interview with Rolling Stone. "It was sort of about a relationship suddenly getting really, really serious and then getting a bit frightened by it," she explained, "and then realizing that 'I think this must be right. This is the relationship that I want to be in for as long as I can possibly be in it."
Despite getting married in 2016, the couple kept it relatively quiet until Adele addressed Konecki as her husband during her Grammy acceptance speech in 2017.
Adele is reportedly dating British grime rapper Skepta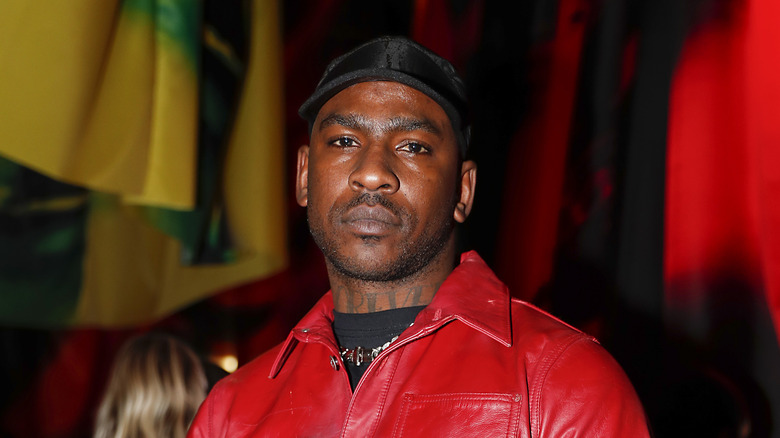 Although, in 2019, a rep for the couple announced they would be separating. "They are committed to raising their son together lovingly," the spokesperson stated (via Us Weekly). Neither has commented on the divorce, but according to People they cited "irreconcilable differences" as the reason for their split. According to a source, they reportedly live across the street from each other in Los Angeles to co-parent their child.
Since her divorce from Konecki, Adele has been romantically linked with British rapper Skepta. In 2020, a "close friend" told People magazine that they saw each other, and that "things have been heating up." Adele and Skepta have been friends for quite some time as "they run in the same circles in London," and Skepta said during an interview win 2016 that Adele texted him "all the time" and "keeps him in check."
While Adele called herself a "(single) cat lady" on Instagram in October 2020, the pair were spotted shopping together in San Bernadino in July 2021 (via Page Six).
Source: Read Full Article