John Mulaney altered the public's perception of who he is fairly swiftly. The amiable comedian used to reference his now-ex-wife Anna Marie Tendler often in his standup routines and repeatedly joked about his lack of desire to be a dad. But after he checked out of rehab in February, he divorced Tendler and announced that he and "X-Men: Apocalypse" star Olivia Munn were expecting a baby. On "Late Night With Seth Meyers," he described his relationship with Munn as "beautiful."
Some fans have had a difficult time coping with the whirlwind of "Changes" that the "Big Mouth" star has been going through in his life, and plenty of takes have been written about the Twitterverse's reaction to Mulaney's divorce and imminent daddyhood. But we suspect many Mulaney fans will eventually look back at this tumultuous time and laugh about it along with him someday — his first post-rehab shows did sell out, after all. His supporters can't help but be curious about what his material will be like now that he can't use jokes about Tendler and being kid-free.
But what about his wife of six years? When Page Six broke the news of the couple's split in May, Tendler released a message that tugged at the heartstrings of those who'd come to adore her and Mulaney as a couple, writing, "I am heartbroken that John has decided to end our marriage." She's also been busy post-split, and what she's been doing is inspiring an outpouring of empathy.
Anna Marie Tendler is creating emotional art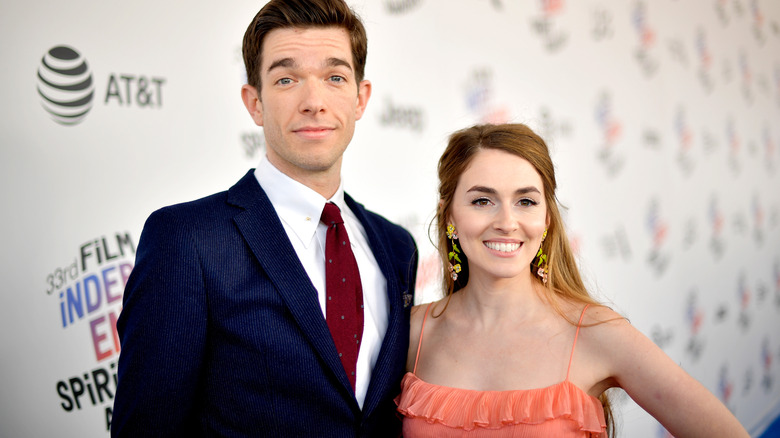 As Taylor Swift can attest, breakups can serve as a wellspring of artistic inspiration. And it looks like Anna Marie Tendler is making lemonade out of the lemons life has thrown her way, as heartbreak and loneliness are themes of some of her latest artwork. From September 23 to 26, fans can check out her art exhibit "Rooms in the First House" at the Other Art Fair in Santa Monica, California, per Page Six. "These photographic works chronicle the often non-linear experiences of loss, anger, and powerlessness, as well as a reclamation of identity," reads the series' description on Tendler's website.
Fans can admire many photographs from the exhibit on Tendler's Instagram page. John Mulaney has been completely wiped from Tendler's grid, which used to include a photo of the couple passionately kissing on their wedding day. "They don't love you like I love you," it was captioned. Now, most of the images are art pieces, like the poignant picture of Tendler sitting at a dinner table with a setting for two. The chair opposite her remains empty, and she gazes at it with an anguished look on her face. "I wish you didn't have such pain from which to draw but you are doing something exceptional with that pain. This is like a renaissance painting," wrote one fan on Instagram. In another image, a tear streams down Tendler's face. "I'm so sorry, Anna. You deserve better," read a response to one photo.
Anne Marie Tendler was previously in the news over a Ben Affleck accusation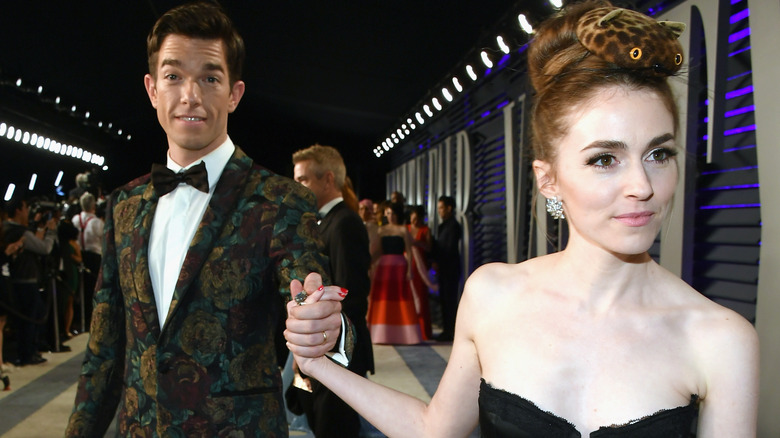 Before she threw herself into her photography work, Anne Marie Tendler sold handmade Victorian lampshades and worked as a professional hair and makeup artist. Her talent is what transformed John Mulaney into an old man for his Broadway show "Oh, Hello." "It was hands down the most rewarding thing that I did in makeup in my entire makeup career," she told Nylon. It was during her makeup artist era that she became part of the "Me Too" movement by making an accusation against one half of another couple who has been dominating the headlines lately: Bennifer.
In 2017, Hillarie Burton received an apology from Ben Affleck after she tweeted about him groping her on the set of "TRL." Tendler took to Twitter to demand the same courtesy from the "Gigli" actor, alleging that he did something similar to her a few months before she married Mulaney. "I would also love to get an apology from Ben Affleck who grabbed my a** at a Golden Globes party in 2014," she tweeted, per E! News. "He walked by me, cupped my butt and pressed his finger into my crack," she elaborated.
Tendler further tweeted about how she's imagined what she'd say to Affleck if she ever encountered him again, and we're dying to know what it would be. Perhaps the multi-talented artist's next endeavor should be a one-woman show dishing dirt about her Hollywood experiences and her marriage — we know we'd watch.
Source: Read Full Article