The following article includes allegations of sexual assault.
The arrest, conviction, and release of Bill Cosby has been making headlines since the '80s icon was first taken into custody in December 2015, on charges of aggravated indecent assault. Eventually, 60 women leveled a range of allegations against "The Cosby Show" star, including "including groping, sexual assault and rape," as NBC News pointed out. However, on June 30, the world was taken by surprise when the disgraced comedian was released from prison after his convictions and sentence were vacated by the Pennsylvania State Supreme Court, which made its decision based on an arrangement Cosby had previously made with a prosecutor that reportedly shielded Cosby from criminal charges in exchange for his testimony in a civil case related to the same charges.
Cosby stayed in the headlines thereafter with his controversial post-prison plans, which reportedly include a comeback comedy tour, per TMZ, despite crisis consultant Risa Heller telling The New York Times, "There is no public appetite for Bill Cosby to have a comeback." Spokesman Andrew Wyatt disagreed, boasting to the same outlet that "people want to hear and see this guy" and that "he can sell out shows" because "he is loved by millions."
It's hard to know who's in the right, but Cosby has indeed received his share of love, including from a number of high-profile supporters. Here are the celebrities who still (openly) support Bill Cosby.
Dave Chapelle struggled with accusations against Bill Cosby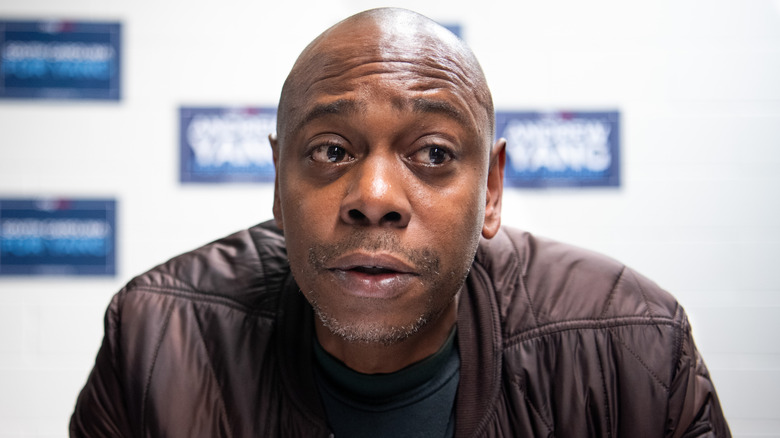 In March 2017, Dave Chappelle made a number of risque jokes about the then-mounting allegations against Bill Cosby in both of his hour-long Netflix specials: "Dave Chappelle: Deep in the Heart of Texas" and "Dave Chappelle: The Age of Spin." In the latter he even made this absurd comedic comparison: "What it feels like to think that your hero might have done something so heinous" is "as if you heard chocolate ice cream itself … had raped 54 people," per Vulture. He continued, "You'd say to yourself, 'Aw, but I like chocolate ice cream.'"
Those were jokes, of course, but when The New York Times asked Chapelle why he chose to dedicate so much time to Cosby in his latest routines, he explained, "The Bill Cosby thing was tough for me. I'm not saying that to detract from his alleged victims at all. But he was a hero of mine," he clarified. Asked if he'd gone through "a mourning process," Chapelle told the outlet, "So many bad things happened to our heroes: Muhammad Ali had Parkinson's; Richard Pryor had M.S.; Prince died too young. And Bill just looked like one of the guys who was going to get to the finish line and just die of old age. And this happened. Jesus Christ. It's awful," he said.
As for whether it's OK to continue watching Cosby's work, Chapelle told The Breakfast Club in 2017 that he didn't have a definitive answer, because "it's the kind of question that makes more questions."
Keshia Knight Pulliam supported her TV dad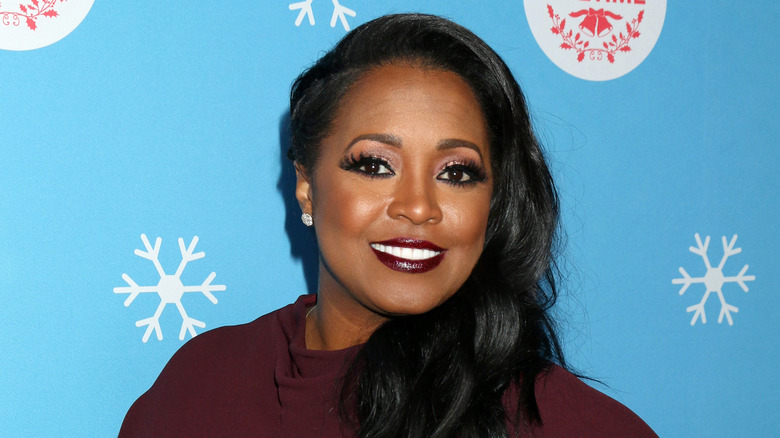 Keshia Knight Pulliam, aka Rudy Huxtable, has nothing but fond memories of her time on "The Cosby Show." She chose to publicly stand by her TV dad, telling Access Hollywood in 2015 that she couldn't comment on the accusations against Cosby, because she "wasn't there." Instead, Knight Pulliam extolled Cosby as "the great man that I know and love, who has been so generous, who has been such a philanthropist and giving back millions of dollars to education and schools." She also called him "awesome," said he "inspired" her entrepreneurial spirit, and suggested "his legacy and all the great things he's done speak volumes." She did, however, concede that "everything that's happened, it's so unfortunate, the whole thing is very, very unfortunate."
In June 2017, Knight Pulliam arrived in court arm-in-arm with Cosby for the start of his two-week trial, telling TODAY she did so because she "just felt like I wanted to do what I would have wanted to receive." She added, "I was grateful to see his spirit hadn't been broken as a result of this process because it's arduous." But while she told ABC that "it's the court's job to find the truth of the matter," she admitted to TODAY she'd be "disappointed" by a guilty verdict and underscored that "it won't change the love because when you have family, people falter, people make mistakes, things happen, but in no way is that condoning sexual assault." 
Damon Wayans mocked Cosby's accusers, then tried to backtrack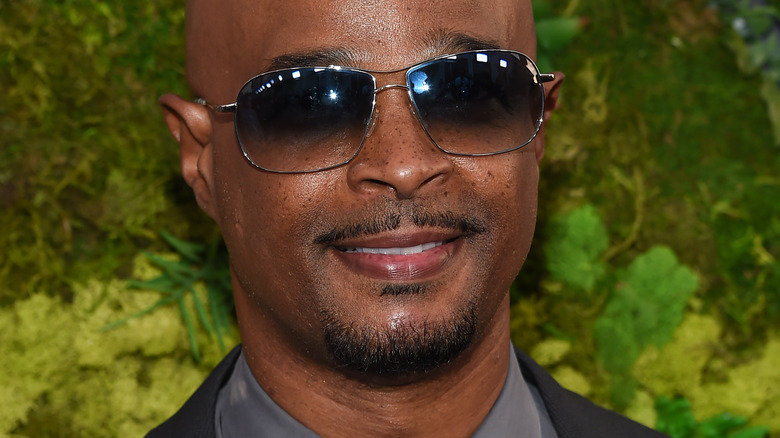 Damon Wayans made headlines for all the wrong reasons in 2015 when he defended Bill Cosby on The Breakfast Club. "If I was him, I would divorce my wife — wink wink — give her all my money, and then I would go to a deposition, I'd light one of them three-hour cigars, I'd have me some wine, and maybe a Quaalude, and I would just go off, because I don't believe that he was raping," Wayans proclaimed. Sharing what he believes happened, he continued, "I think he was in relationships with all of them, and then he's like: 'You know what, I'm 78, it don't work no more, I can't get it up for any of y'all, bye b***es.'" The actor also took issue with Cosby's victims having what he called "amnesia for 40 years," was incredulous over some of them accusing Cosby of multiple transgressions, and attacked the appearance of "some" of the alleged victims, calling them "unrapeable."
Wayans then contradicted himself, saying, "If it was my daughter, then I would have killed Bill Cosby," but underscored, "I just don't believe this, I think it's a money hustle." And while he concluded by telling victims, "I'm sorry, and I hope you get justice," backlash was swift. Wayans shot back, repeatedly posting an isolated clip from the interview and tweeting, "Stop twisting my words. Watch the entire interview before [you] condemn me," per The Washington Post.
CeeLo Green found Bill Cosby's situation 'unfortunate'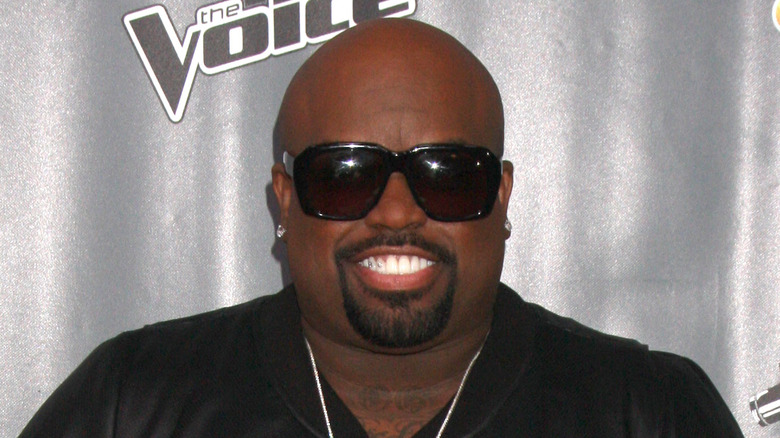 CeeLo Green was asked to share his thoughts on the Bill Cosby case in 2014 when TMZ caught up with him in his car. Citing the lack of an official statement from the disgraced comedian, Green noted, "He hasn't said anything, which is also, to some, an admission of guilt as well. It just doesn't seem fair any way you slice it," he continued, adding, "You can't defend yourself in that capacity. You just have to let facts be facts and so on and so forth. The facts have to speak the loudest," he added. "With that being said, none of this seems fair. But of course, for any victim in the situation, it's highly unfair," he told the outlet before concluding, "It's not for me to judge him. I definitely can't judge him. … It's just unfortunate because he's so beloved to so many people."
Ironically, just a few months prior, Green himself was accused of sexual assault when his then-girlfriend claimed he gave her ecstasy without her knowledge. According to TMZ, witnesses said the woman "looked fine" when the couple left the restaurant and, in the end, the singer pleaded no contest to giving her ecstasy with her knowledge in order to escape jail time. Rather than laying low, however, Green put his foot in his mouth when he fired off on Twitter that "women who have really been raped REMEMBER!!!," per Billboard.
Waka Flocka Flame is convinced Bill Cosby was framed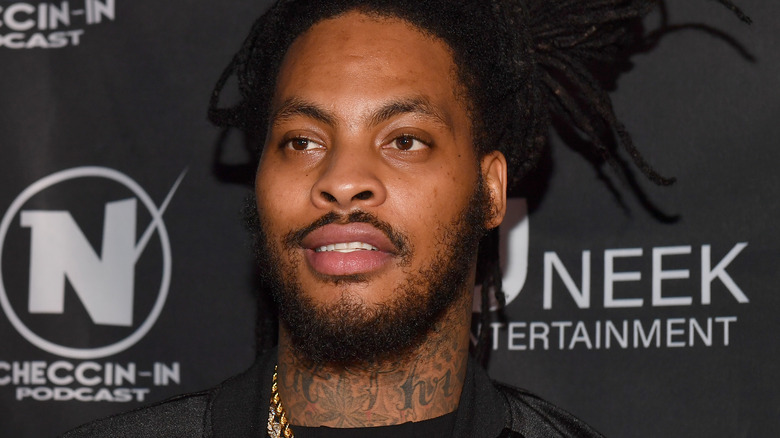 New York rapper Waka Flocka Flame is convinced that Bill Cosby is innocent of all the charges brought against him, and he decided to let the world know just that in a series of since-deleted tweets sent out on New Year's Day 2016. "I really feel like somebody is framing Bill Cosby," the "No Hands" rapper tweeted (via Vibe) before firing off the word "propaganda" followed by the claim that "every time a famous minority make[s] it, they throw salt in the game." He concluded, in the one tweet still online, by dubbing the mounting allegations and legal proceedings "an organized lie."
The tweets came just one day after Cosby was officially charged with a single count of "aggravated indecent assault" in the case brought forth by Andrea Constand, who claimed Cosby assaulted her in his Philadelphia home in 2004. It was the case that would eventually get "The Cosby Show" star a three- to ten-year sentence in 2018.
Needless to say, Waka Flocka Flame's pronouncements were met with criticism, including from columnist Jonathan Capehart. In a scathing opinion piece published in The Washington Post, Capehart called the rapper's comments "​​nonsense" and wrote, "Cosby finds his name and reputation in tatters not because he is black. … Not because 'they throw salt in the game.'" He continued, "Neither white people nor the system did this to Cosby. He did this to himself."
Comedian Eddie Griffin blamed a 'systematic effort' for Bill Cosby's downfall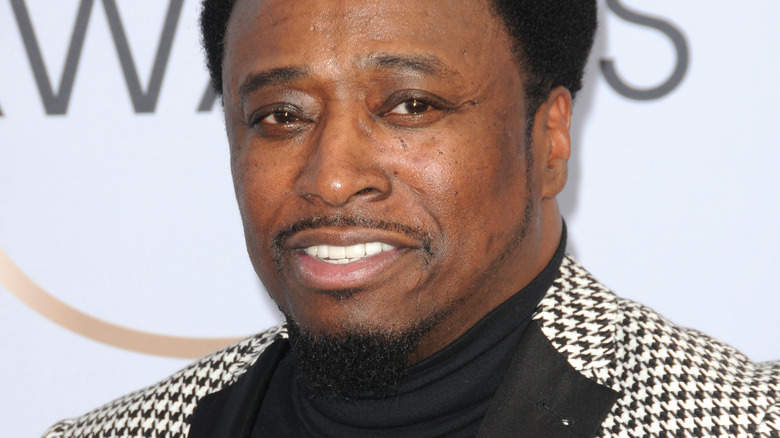 Comedian Eddie Griffin believes a secret conspiracy is to blame for Bill Cosby's downfall, as he told VladTV in 2015. After proclaiming that "Dr. Cosby is a class act," Griffin said he doesn't believe the drugging allegations for a variety of reasons, one of them being the timeframe in which some of them occurred: the '70s. He argued that Quaaludes (which Cosby was accused of using to drug his victims) were prevalent at the time and that taking them was commonplace. He then condemned Cosby's accusers, saying, "Did he rape these b****es? All of them said the same thing, 'We went to the room.' Why would you go to the room of a known married man?" he slammed.
Griffin also took issue with how long the women were silent, saying, "I don't understand that. That's like a motherf***er robbing me, and then I wait 30 years to call the police." He continued, ​​"There is a systematic effort to destroy every black male entertainer's image. They want us all to have an asterisk by our name. … Nobody leaves this business clean." The "Undercover Brother" star then took the usual route of Cosby defenders by citing that disgraced star's philanthropic efforts.
The day Cosby was freed from prison, Griffin took to Twitter, where he'd previously posted a few times in defense of Cosby, to exclaim, "Bill Cosby is free!!!" before asking, "Thoughts?" Despite many replies, he didn't engage further. 
Tiny Harris wanted Bill Cosby released from jail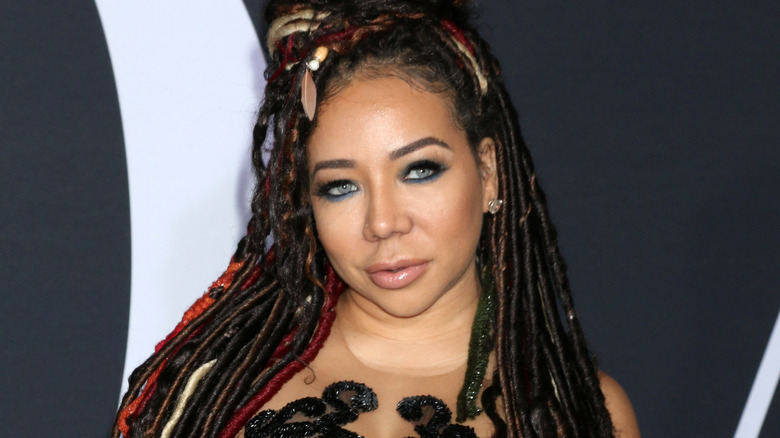 T.I. and Tiny Harris have weathered their own sexual assault allegations, so it may come as no surprise that Tiny spoke up for Bill Cosby. It was April 2020 and the pandemic was beginning to spread across the U.S., sparking talk of non-violent offenders being released from prison to serve their sentences under house arrest for health reasons. Cosby would have fit that criteria and when Tiny was asked on her podcast, "The Tiny Jo Show," what she thought about the comedian possibly leaving jail, she enthused (via BET), "I f**king love it! No disrespect to the women that were involved," she quickly added, but continued, "I just feel like Bill is older, and he's been in there doing his time. I don't know how much time he did. Has he done two years yet?" she asked.
Interestingly, when Tiny's co-host and best friend, Shekinah Jo Anderson, took a more passionate stance while defending Cosby, Tiny scolded her. "I think it's f***ed up what you women did to Bill," Anderson slammed in a segment that has since been deleted from the YouTube clip of the show, claiming, "Nine times out of ten, real talk, y'all was trying to f**k y'all way to the top. And what end up happening, I guess that p***y didn't get where it was supposed to [go]." It seems those comments went too far for Tiny who admonished, "I don't think you should do that. I feel like it's not fair to do that to the victims because we don't really know [their] story."
Boosie BadAzz celebrated Bill Cosby's release from prison
Boosie BadAzz defended Bill Cosby on multiple occasions. In June 2019, he took to Instagram (via XXL) to call for the world to "Free Bill Cosby" and claimed race played a major role in the disgraced comedian's sentencing. Citing how the "armadillo lookin' b***h Harvey Weinstein" was able to reach a settlement in his civil lawsuits, but Cosby "couldn't pay for his s**t," he called on his followers to "wake up [to] this racist a** motherf***in' world." Jump to September 2020 and the rapper made headlines again when he tweeted, "Free Bill Cosby Let's Start A Petition."
Despite being in prison at the time, Cosby tweeted out his thanks and well-wishes after Boosie BadAzz was reportedly shot in Dallas. "The first person to be recognized on Thank You Thursday is Rapper @BOOSIEOFFICIAL," Cosby wrote, adding, "Thank you for your support & I'm praying for you to have a speedy recovery and for your mobility to be restored. Again, thank you very much."
In June 2021, Boosie BadAzz celebrated Cosby's release on Twitter, writing, "YALL DONT JOIN BILL COSBY TEAM NOW. YALL WAS CLOWNING ME AT FIRST." He also posted a video to Instagram, saying, "Just got the news: Bill Cosby's free. Welcome home Bill from Boosie BadAzz." He continued, "God don't sleep. Corona — they still ain't gonna let the man outta jail. God don't sleep, man. Free Bill Cosby, man. Big day, man. Free Bill, man! Told y'all!"
Phylicia Rashad defended her TV husband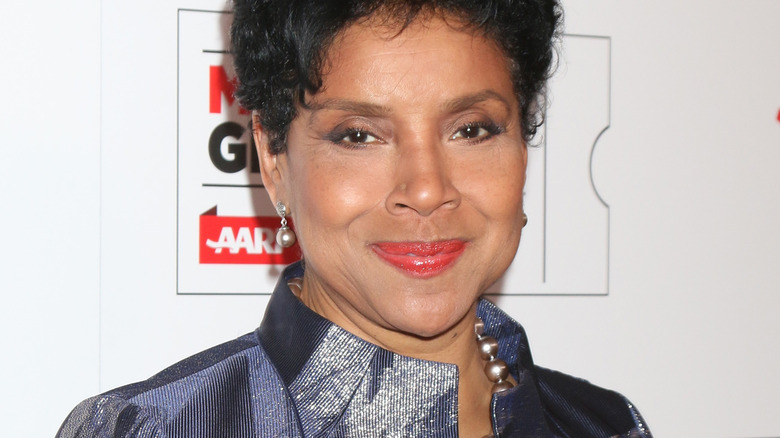 When Roger Friedman of Showbiz411 bumped into Phylicia Rashad in January 2015 and asked her about Bill Cosby, she stood "defiantly behind him," in Friedman's words. "I love him," proclaimed, before adding, "What you're seeing is the destruction of a legacy. And I think it's orchestrated. I don't know why or who's doing it, but it's the legacy. And it's a legacy that is so important to the culture." Insisting that she never saw Cosby act inappropriately, she added, "Someone is determined to keep Bill Cosby off TV. And it's worked. All his contracts have been cancelled."
Speaking with ABC News later in the week, Rashad stood by her allegations and denied ever witnessing any of Cosby's alleged transgressions or even hearing rumors about them. She cited the fact that, at the time, Cosby was "innocent until proven guilty, and called him "generous," "kind," "inclusive," and a "genius." She also reiterated her claims about the destruction of his "legacy" and her theory that "someone has a vested interest in preventing Mr. Cosby's return to network television," adding, "We're talking about a legacy that introduced and portrayed American culture in its diversity. It's difficult for me to watch this legacy be erased as if it never happened."
As soon as Bill Cosby was released from prison in June 2021, Rashad took to Twitter to celebrate and in a since-deleted tweet wrote (via TODAY), "FINALLY!!!! A terrible wrong is being righted- a miscarriage of justice is corrected!"
Phylicia Rashad tried to smooth things over after defending Bill Cosby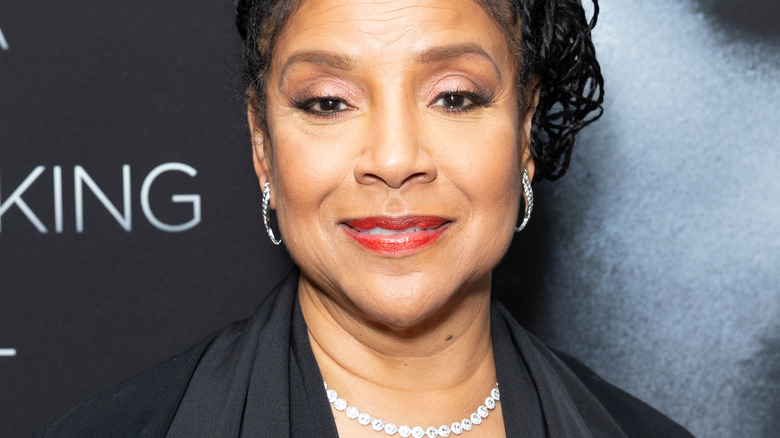 Backlash to Phylicia Rashad's tweet supporting Bill Cosby was swift and she soon followed it up by writing, "I fully support survivors of sexual assault coming forward. My post was in no way intended to be insensitive to their truth. Personally, I know from friends and family that such abuse has lifelong residual effects. My heartfelt wish is for healing." She then addressed the students and parents from Howard University (where she serves as dean of Fine Arts) to offer her "most sincere apology," per CNN. In a letter, Rashad wrote, "My remarks were in no way directed towards survivors of sexual assault," and ensured the recipients that "Howard University has a zero-tolerance policy toward interpersonal violence." The actor then vowed "to engage in active listening and participate in trainings to not only reinforce University protocol and conduct, but also to learn how I can become a stronger ally to sexual assault survivors and everyone who has suffered at the hands of an abuser."
As for Cosby, he showed his support for his TV wife, saying in a statement (via NPR), "Howard University you must support ones Freedom of Speech (Ms. Rashad)" and slamming, "This mainstream media has become the Insurrectionists." He added, "Those same Media Insurrectionists are trying to demolish the Constitution of these United State of America … WE THE PEOPLE STAND IN SUPPORT OF MS. PHYLICIA RASHAD." 
50 Cent had some interesting thoughts following Bill Coby's release from prison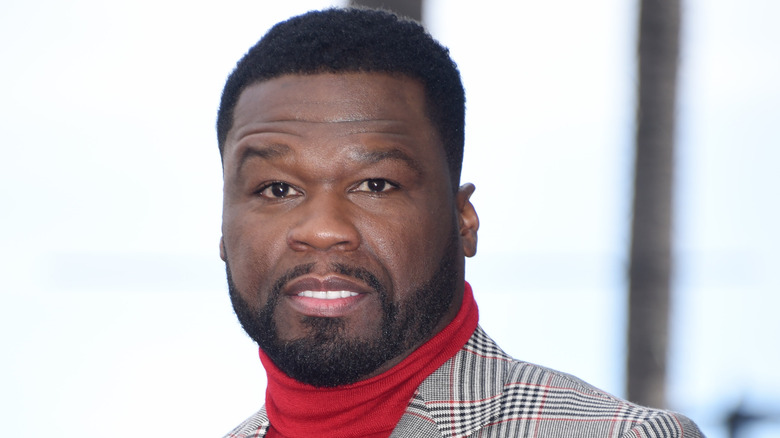 50 Cent decided that Bill Cosby's release from prison was the perfect time to make some jokes about the disgraced comedian while also promoting a new project of his own. Taking to Instagram, the rapper posted footage of Cosby from his trial with the words, "Bill Cosby was just free'd after a Pennsylvania court just ruled that he had an unfair trial." In the caption he wrote, "LOL Bill Cosby back on the loose. Catch 'FOR LIFE' on IMDb Tv." He also posted, then deleted, an '80s photo of Cosby advertising Jell-O Pudding Pops and wrote, per Complex, "My son Bill beat that case. These h**s be tripping. LOL check out 'FOR LIFE' on IMDb Tv now."
It's unclear whether the posts were genuine support for Cosby or mere promo for "For Life," but 50 Cent has previously spoken out about Black men and sexual assault, most notably in December 2019 while calling out Oprah for wanting to film a #MeToo documentary about Russell Simmons. Posting a photo of Oprah and Simmons to Instagram, 50 Cent slammed, "I don't understand why Oprah is going after black men. No Harvey Weinstein, No Epstein, just Micheal Jackson and Russell Simmons. This s**t is sad," he wrote, adding, "These documentar[ies] are publicly convicting their targets. It makes them guilty till proven innocent." Oprah eventually abandoned the film, admitting that Simmons "did reach out multiple times and attempted to pressure me."
Source: Read Full Article