Taking to her Twitter account, the former star of 'RHOBH' pokes fun at Erika who had her mascara running down her cheeks when she tearfully addressed her legal issues in a recent episode.
AceShowbiz –Camille Grammer apparently has no sympathy for Erika Jayne amid her marital and legal woes. The former "The Real Housewives of Beverly Hills" star took to her Twitter account to shade Erika for crying over her divorce and legal issues in a latest episode of the show.
Camille wrote on Wednesday night, July 14, after the episode aired, "Omg! #rhobh is so messy rt now So much to unravel." One of the followers then responded, "I wish you were there to yell 'Shut it down!!' every time Erika started to cry."
Camille caught wind of the tweet and decided to reply and mock Erika in the process. "We filmed in the Bahamas season 9 and we were all swimming in the water. I don't remember seeing EJ's mascara run after swimming underwater Just saying," Camille said, referring to Erika's mascara that ran down her cheeks from crying.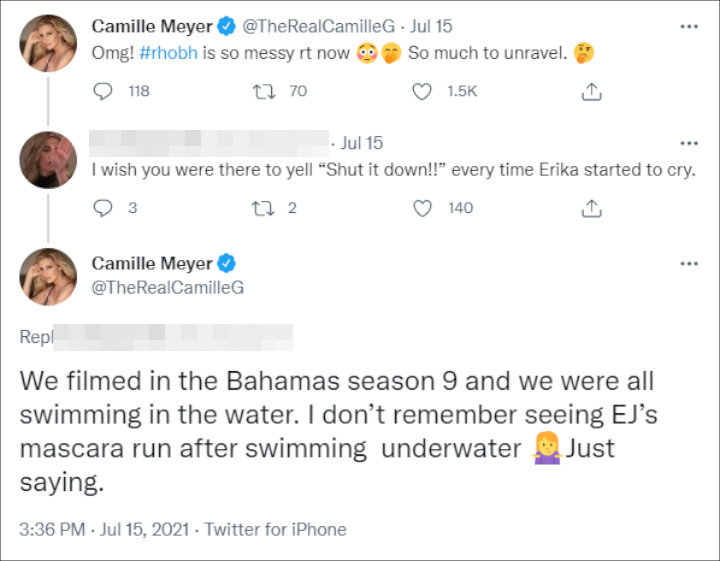 Camille Grammer shaded Erika Jayne.
Her tweet prompted others to make fun of Erika as one said, "I knew it was cheap mascara used for affect. She made no attempt to wipe her face. If you're crying all the time like she said she was…wouldn't you carry a tissue? Please. I don't buy any of her act and never have."
Another user chimed in, "As much as I felt for her, it did cross my mind that she made no effort to wipe her face. ..see what happens when you gain a certain rep…sadly that's why she's being so doubted."
However, some others called out Camille over the shade. "You need to really let this show go. I'm feeling really sorry for you at this point," someone said, while another person added, "Jesus Christ Camille. If you haven't anything nice to say don't say anything."
In the episode, Erika tearfully addressed her divorce from Tom Girardi in addition to shutting down rumors that her divorce was a "sham." She said, "This sucks so bad. The things that are being said are just wrong. People are believing [the allegations] and they're everywhere and it's terrible. I'm here, by myself, and what's being said, I mean, it's insane that my divorce is a sham. But nobody cares about the facts."
Source: Read Full Article