If you need a lesson in how to handle yourself in a breakup literally a million years later please look no further than Angelina Jolie, who just sold a painting given to her by Brad Pitt for over $11 million.
According to People, the painting in question is "Tower of Koutoubia Mosque" by Winston Churchill, and it was sold by the Jolie Family Collection for $11.5 million at a London art auction this past Monday.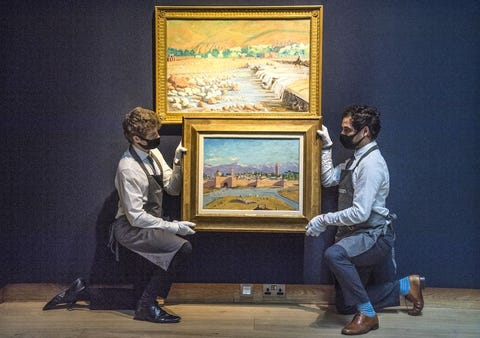 Per a press release from auction house Christie's:
The painting was originally gifted from Churchill to Franklin D. Roosevelt, and was last sold at auction in 2011 for $2.95 million. According to Page Six, the buyer was Brad Pitt, who gave the painting to Angie. I mean…making over $8 million on a gift your ex gave you? Inspiring to say the least.
BRB gonna go try to figure out if this weird Valentine's Day stuffed bear my ex gave me is worth anything.
You love all the deets on celeb news. So do we. Let's overanalyze them together.
Source: Read Full Article