A fashion facedown got very ugly on Monday when Alice + Olivia CEO and creative director Stacey Bendet ran into Steve Madden in a hotel lobby!
After calling out the shoe guru for copying her designs, she says he launched a "verbal assault" on her, telling her to "go f**k" herself… all in front of her 4-year-old child. Not only was she able to capture video of the exchange for her Instagram Story, but she also posted it to her IG feed on Tuesday.
In the short clip, Madden can be heard, saying:
"Honey, if you're going to be rude, you can go f**k yourself. You can go f**k yourself if you're going to be rude to me, okay? You copy people all the time. We didn't copy. We were making faces way before you. Are you gonna tape me now?"
Bendet fired back:
"You said if I'm not copying people, I'm not doing a good job. That was you. I have it trademarked. Branded Stace. You copied it."
If you're wondering what exactly the two are sparring over, her company actually sued one of his companies, Betsey Johnson, for allegedly stealing her "StaceFace" design back in 2018! In June 2019, the two reached a confidential settlement, but as you can tell, there are still hard feelings.
The Alice + Olivia head wrote a lengthy message about the "bullying" she suffered yesterday when she posted the heated clip to her social media account:
"I usually have my feed filled with positivity, female empowerment and the beautiful clothes my team and i are so proud to create—-but today I am posting this example of bullying, copying, and overall disrespect toward creativity and women— launches a verbal assault on me in a hotel lobby—-he said hello and complemented my outfit and I asked him if he was going to continue to copy it like he did with my trademarked stace designs 🤷‍♀️"
The 41-year-old continued:
"you can see him lose his temper and become aggressive using vulger language all while my four year old screams mommy in the background——I am sharing this because his behavior is not acceptable in business or life—-he could have apologized or showed some remorse—but no, he responds with intimidation—we can't stop bullies unless we stand up to them!!! I hope what my daughters learned was how you never let a man or anyone) speak to you this way!"
See the full post and vid (below):
For those not in the know, Madden's company has been sued multiple times before for copying other brands' designs, like Alexander Wang and Balenciaga, both in 2009.
In 2018, he also let his temper get to him as he took to the Steve Madden Twitter account to chime in on Nicki Minaj's feud with Cardi B over a shoe deal…
Of course, we'll be waiting for the fashion designer to spill his piece on the drama. Until then, you better believe Stacey's friends have come out in full support, but none harder than her BFF Jenny Mollen. The actress took to her IG Story to slam the popular shoewear founder: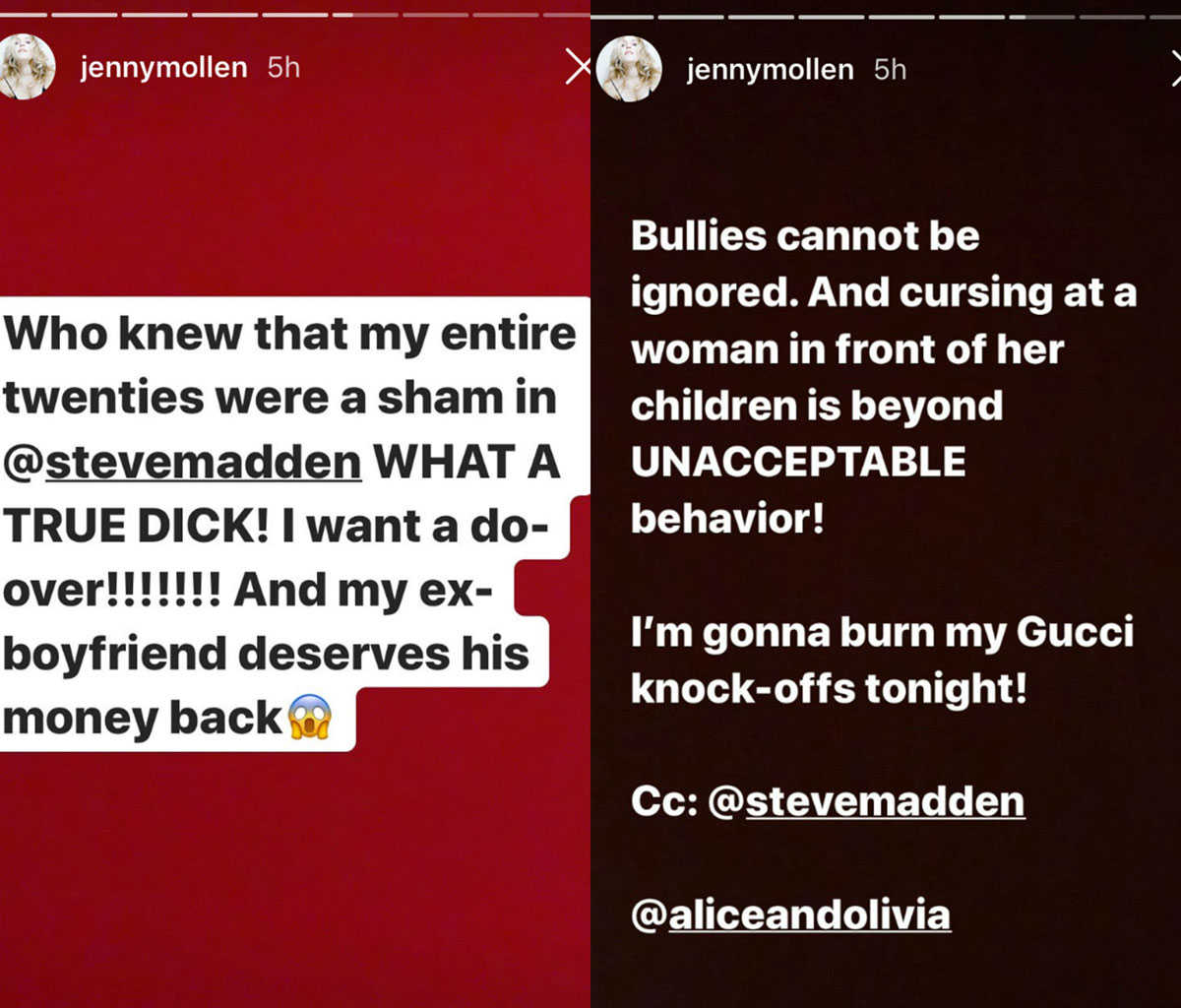 Jenny concluded with an actual photo of her burning the Steven knockoff heels!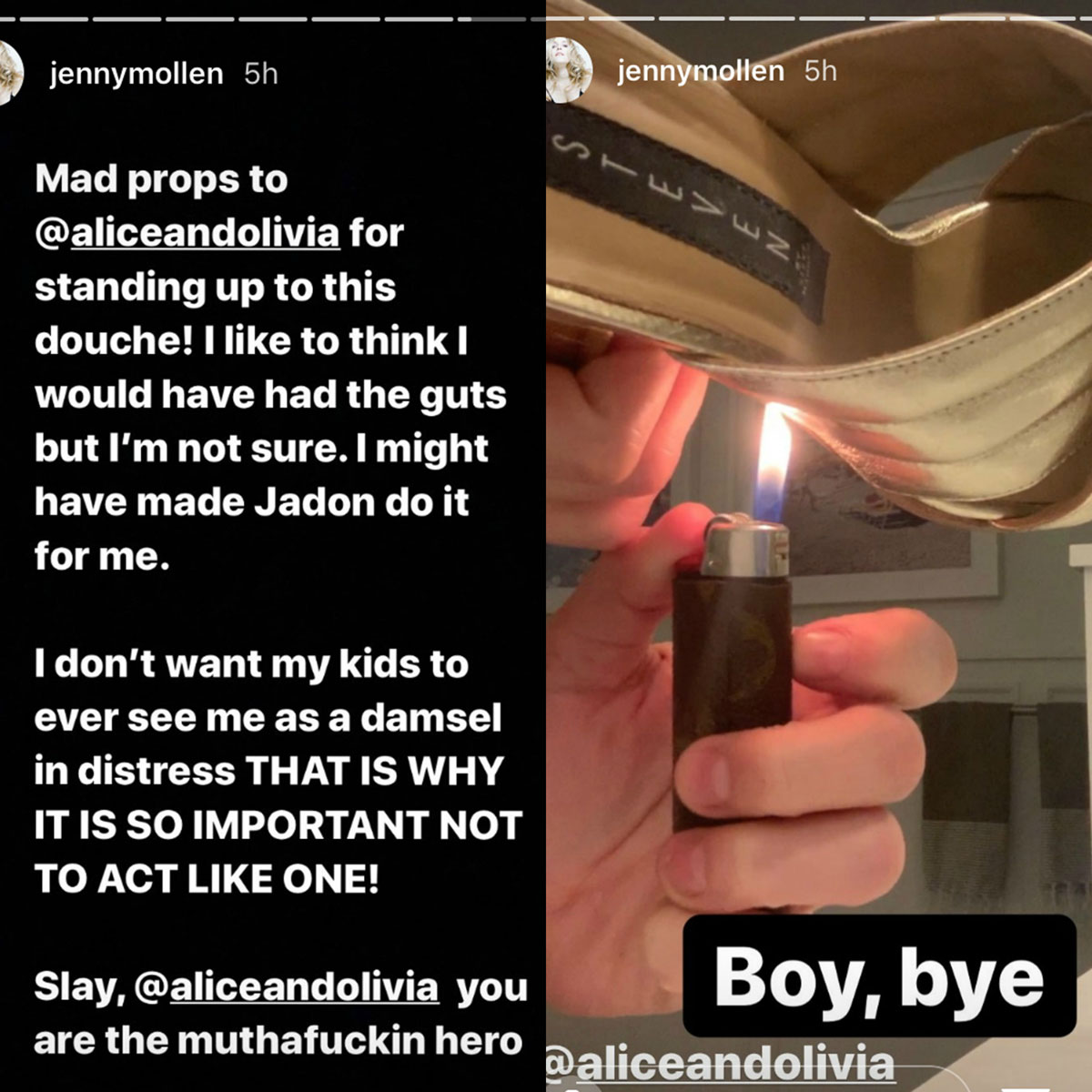 So, Perezcious readers, will U be burning your Madden shoes and heels? Or do you want to wait to hear what Steve has to say in regard to all the drama??
Related Posts

Source: Read Full Article